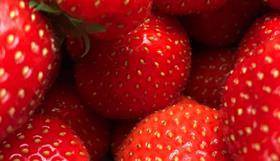 Korea's agricultural ministry has revealed nearly 100 charted flights to Singapore have helped boost the value of strawberry exports in 2021.
The Korean government and Korean Air partnered in December 2020 to help strawberry exports facing shipping troubles amid the Cobid-19 pandemic.
According to a report from Yonhap,in between December and April 88 flights (four a week) carried a total of 958 tonnes of strawberries worth US$15.2m, a 21 per cent increase from the same period a year earlier.
Singapore is Korea's second-largest market for strawberries, in 2019 it shipped 1,421 tonnes of berries to the South-East Asian nation worth US$13.7m, according to the Korea Agro-Fisheries and Food Trade Corp.
Outside of Singapore Korea has signalled plans to further develop other Asian markets for its strawberries such as Hong Kong, Thailand and Vietnam.