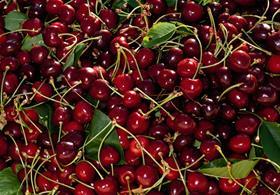 Domex Superfresh Growers' interest in Alibaba was first piqued in 2017 but a new partnership has the US-based grower excited about the possibilities.
According to a report from Alizila, Superfresh Growers partnered with Alibaba at the tail end of this the 2020 US cherry season, a decision that has resulted in strong sales for its cherries in Alibaba's Freshippo supermarkets in China.
Jeff Webb, Domex Superfresh Growers' director of international business development, said its interest in Alibaba first began at Alibaba Group's Gateway '17 event in Detroit.
This resulted in Webb visiting a Shanghai Freshippo store in 2018, a trip that only heightened the company's interest.
"My goal was to discover the future of Alibaba and our future with this type of growth pattern. I wanted to expand our future with China as a country. Alibaba is a very big part of China and that is going to be our future," Webb told Alizila.
"Going through one of their large stores was fantastic. That sold me."
Webb said Superfresh Growers has been exporting fruit to China for a decade but Alibaba and Freshippo's business model offered a new and innovative approach.
"Partners like Freshippo and Alibaba serve customers in all channels, including e-commerce, B2B and retail stores," said Webb.
"Freshippo stores are amazing, loaded with technology, focused on premium products and specialising in fresh offerings. The stores are lively, fun and entertaining. We think these attributes are a great match for our premium products and company culture."
Around 30 per cent of Superfresh Growers' produce including cherries, blueberries, apples, pears and apricots are exported, with 5 percent of its production, mainly apples, cherries and blueberries, sold in China.
Webb said Superfresh Growers' expects the company's business in China to grow in the near future.
"Chinese customers have a passion for premier products like Northwest US cherries, apples and blueberries," said Webb.
"This is only the beginning. Alibaba gives us access to millions of people in many channels: e-commerce, retail, B2B. We are optimistic that our partnership will expand tremendously over the years."