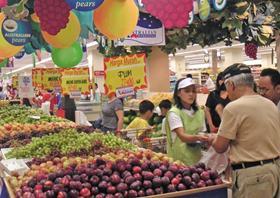 The growth potential is great in Indonesia for Chilean fresh fruit imports. That was the key message to come out of recent meetings between Chilean exporters and Indonesian importers.

As part of a visit to Indonesia organised around the Chilean delegation's presence at the ASIA FRUIT LOGISTICA trade show in Hong Kong last week, Chilean produce exporters met with a number of Indonesian importers.
Chile's exports to the market have been growing rapidly, but from a low base. In line with growing trade to Asia, the future potential in Indonesia is large, said Christian Carvajal, marketing manager for Europe and Asia with the Chilean Association of Fresh Fruit Exporters (ASOEX), in a report from Tempo Interactive.
Indonesia only imports 0.8 per cent of Chilean fresh fruit exports, but according to ASOEX figures Indonesia's grape imports from the South American supplier rose 126 per cent last season year-on-year, with a total increase on Chilean fruit imports this year of 200 per cent to around 9,100 tonnes.
Mr Carvajal said there were opportunities for apples, pears, cherries and blueberries.
Kafi Kurnia, chairman of the Indonesian Fruit and Vegetable Exporter Association, said Chile was planning strong growth over the whole region.
"They want to increase exports to Asia by 20 per cent," he told Tempo Interactive.
The visit to Indonesia is the latest in what has become an annual tradition for Chile. Organised by ASOEX and promotional board ProChile, Chilean delegations of fresh produce suppliers have visited different Asian markets for the last several years following the country's presence at ASIA FRUIT LOGISTICA.
The visits aim to promote Chilean produce, build relationships with Asian buyers, and increase Chilean exporters' familiarity with markets in the region.