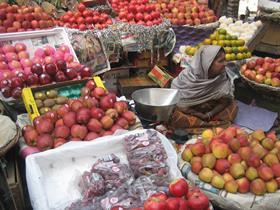 Chile has appointed new commercial and agricultural attaches in key Asian and EMEA markets to develop its exports of fruit and other products.
The representatives for Indonesia, India, Thailand, Vietnam, UAE and Morocco, who officially assume their positions in May, recently met with Asoex in order to analyse the most important aspects of shipping fruit to these markets.
"Diversifying our target markets and deepening the presence in Asia and the Middle East are crucial if we are to continue evolving as a sector and these meetings are a vital way of communicating our strategy to develop each market," said Asoex president Ronald Bown.
Discussions on the Indian market, where Asoex believes there is ample opportunity for export growth, centred on tariff reduction and the need to change the conditions of entry for blueberries and avocados. Currently these require fumigation with methyl bromide at source, which makes it commercially unfeasible to supply that market. Asoex said the requirement for fumigation is unnecessary as Chile is officially free from fruit fly.
This issue also affects shipments to Indonesia, another country that does not recognise Chile as a country free of fruit fly and consequently prohibits entry through the port of Jakarta. This affects Chile's competitiveness as it means shipments have to be made to the port of Surabaya, some 1,500km away from the Indonesian capital and therefore the main market.
Chilean exporters have also come up against problems in Vietnam after the Asian country changed the entry conditions for Chilean fruit. The Vietnamese authorities have given Chile's Agriculture and Livestock Service (SAG) until 31 July to comply with the new requirements. Failure to do so could result in the closure of this market.
Meanwhile, the Moroccan market remains closed to Chilean fruit as Asoex said it had been impossible to finalise the details of a phytosanitary agreement in spite of numerous talks between the two countries. Therefore, the role of the attaché should focus on making further progress towards the signing of a bilateral agreement that would allow the entry of Chilean fruit.
According to Asoex figures, India imported 15,520 tonnes of Chilean fruit in 2013/14, the main products being apples, pears, table grapes, blueberries and cherries. Indonesia imported a total of 3,766 tonnes from Chile, while shipments to the UAE reached 11,418 tonnes. Exports to Thailand reached 2,435 tonnes, and Vietnam took 1,915 tonnes.