Sector hosts tour for representatives of leading North American supermarket chains
A group of North American retail buyers travelled to Chile last week to visit fruit farms and packhouses as part of a tour organised by the Chilean Fresh Fruit Association (CFFA), Asoex and ProChile.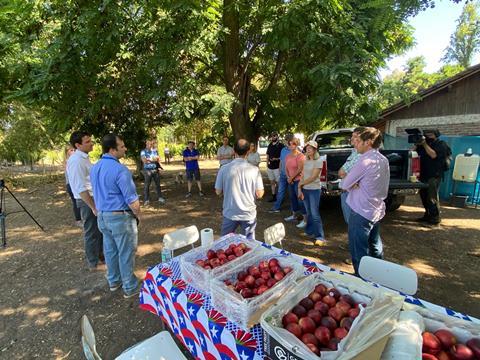 The group, made up of AWG sourcing manager Stacy Jay Holthaus; Wakefern's category manager Thomas Wayne Young; Nicole Huistein, category manager of Food Lion; Scott Carpenter Dray, senior director, Walmart Global Produce Sourcing, and Liam O'Callaghan of Asiafruit magazine, was accompanied by Allison Myers, CFFA merchandiser for the central and eastern part of the US and Karen Brux, director of marketing for the CFFA of North America.
The visitors were received by Asoex president Iván Marambio and marketing director Ignacio Caballero, along with representatives of the blueberry, cherry and table grape committees and various export companies.
"The US is the main destination market for our fresh fruits, taking just over 30 per cent of total shipments. This type of visit is very important as it allows us to continue to strengthen our relationship with this market with which we have a long history," said Marambio.
"We believe that showing the entire process of our fruit, from when it is on the tree to when it reaches the table of American consumers, is very important, as it allows us a unique opportunity to showcase the efforts made by the sector to comply with quality standards, import protocols, through the use of the highest technology and taking care of the environment and workers."
Brux commented: "Retail is a strategic partner for our fresh fruits in the US. With them we generate various actions to encourage the consumption of our fruits and promote the origin of Chile as an important supplier in counter-season.
"For this reason, these tours are activities that we regularly organize to show how the fruit that they then offer to their customers is produced and exported, but perhaps the best thing about this is that they can see the environment and the people who work in this industry and then communicate it. to their clients in the best way."
During the tour, the group visited the Cauquenes blueberry, cherry, stonefruit and table grape production and packing facilities in several regions including maule, O'Higgins, Curicó and Rancagua.
They also visited table grape farms in Copiapó, where they saw the first new season grapes being packed for the US market.
During the tour, the visitors learned about the new varieties being planted in Chile and how companies are preparing for the implementation of the Systems Approach for exports to the US.
Chile is the Southern Hemisphere's leading supplier of fresh fruit and the world's biggest exporter of table grapes and plums.