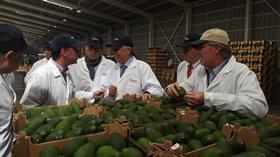 Chile is closer to achieving access to South Korea for its avocados after hosting quarantine officials from the Asian country in February.
The visit was seen as a success by Asoex which said it was hopeful Chile would be able to start exporting avocados at the beginning of the upcoming season, in August 2020.
Asoexhosted officials from South Korea's Animal and Plant Quarantine Agency (APQA) as they visited orchards and packhouses to verify production and export procedures for the fruit. The APQA also learned more about Chile's fruit fly programmes.
Miguel Canala-Echeverría, general manager of Asoex, said the visit represented an important milestone in the process.
'The inspectors were satisfied with the visits made, not only with the handling of the fruit, but also to its quality, the technology implemented and level of efficiency in irrigation, harvesting and packaging," Canala-Echeverría said.
"We hope to receive a positive response once the inspectors return to Korea and make their report. The next stage involves making some adjustments to the export procedures and compliance with some administrative stages in Korea. We expect these to be finalized for the next avocado export season, which starts in August."
Horacio Borquez, national director of SAG, Chile's department of agricultural and livestock, said gaining access to South Korea would be a significant step towards diversifying the country's avocado export markets.
'We have been negotiating access for many years, but the visit of these inspectors makes us think that we are closer to reaching our goal,' said Borquez.
'We see the opening of the South Korean market as a great opportunity not only to diversify avocado exports, but also to continue consolidating a greater presence in Asian markets. South Korea is a very sophisticated market, which likes to eat well and healthy, so our avocados fit very well."