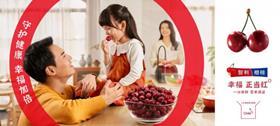 The Chilean Cherry Committee has launched a series of promotional videos as part of its US$6m Chinese marketing campaign to support the growing volume of fruit set to be exported to the country this season.
The videos will be broadcast on social media platforms and television channels across the country.
Promotional activities in China are geared towards encouraging consumption of fresh cherries in the run-up, during and after the Chinese New Year celebrations, which this year take place on 1 February.
Charif Christian Carvajal, Asoex's marketing director for Europe and Asia, said: "Our general objective is to increase and promote the consumption of Chilean cherries during our season, increasing per capita consumption and incorporating new consumers, including consumers from smaller cities".
As in previous seasons, the campaign will feature the slogan "Enjoy the red moment". For the first time it will also include the tag "Give yourself a red moment every day" in order to encourage consumers to buy cherries beyond the Chinese New Year.
According to the Cherry Commission's latest estimate, Chile is on course to export 72,367,963 (5kg) cartons, equivalent to 361,840 tonnes of fruit.
This new figure reflects an increase of 2.6 per cent in relation to last season and a fall of 6.6 per cent in relation to the first estimate of the season in November.
"In order to help stimulate consumption after the Chinese New Year, we're increasing our promotional investment by around 30 per cent between 1 and 21 February," Carvajal explained.