Direct shipments to the Port of Tianjin will facilitate access to northern Chinese markets from this season
The northern Chinese port of Tianjin will receive direct shipments of Chilean cherries from the 2023/24 season, providing speedier access to the main consumer markets in northern China.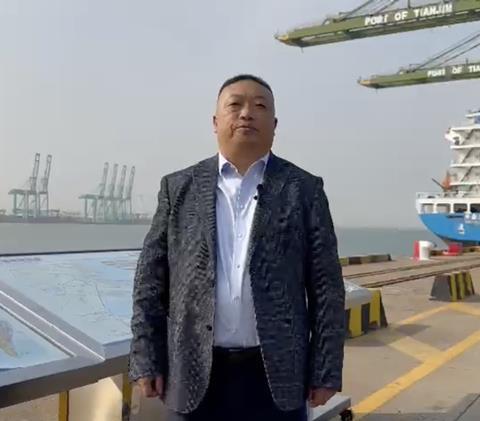 The move was announced during this week's state visit of Chilean president Gabriel Boric to China to mark ChileWeek, the annual event celebrating more than 50 years of diplomatic and economic cooperation between Chile and China.
Claudia Soler, executive director of the Chilean Cherry Committee, said Tianjin would be an important alternative entry point for Chilean cherries this season.
"This port is going to be strengthened for the export of our fresh fruits, especially cherries, which is very much in line with the diversification strategy sought by the committee, since it allows us to directly reach all the northern area of China, mainly, everything that is Beijing and its surroundings, with fruit of excellent quality and condition," she said.
Chen Xuejian, president of China Ocean Shipping Agency Tianjin-Penavico – a subsidiary of Tianjin Port Group – commented: "Tianjin Port is the largest comprehensive port in northern China, whose inland regions account for more than half of all mainland China.
"It has had a crucial impact on the construction of the Belt and Road Initiative in northern China, which has a wide impact in Beijing, Tianjin, Hebei, Shanxi, Inner Mongolia, Ningxia, Xinjiang and other places, and it can cover a population of more than 300m people".
The Port of Tianjin has the capacity to handle 500,000 tonnes and its main channel is 22 metres deep, with 214 berths. More than 140 container lines use the port and it can accommodate more than 550 for ships, equivalent to 22m TEUs per year.
From this season, the port will receive direct services from Chile. "The first sailing schedule has been set for December 2023…and the first three shipping lines will be the Cherry Express, which will depart directly for Tianjin Port in weeks 51 and 52 and week 1 of 2024, respectively," Xuejian said.
From the port, Chilean fruit will be transported rapidly to regional markets. The transportation time from the port to Beijing Xinfadi and Hebei Gaobeidian markets is less than three hours, while Zhengzhou and Shenyang can be reached in half a day by road.
"This new line of vessels will reduce the cost of unloading transportation and reduce distribution risks in winter, being able to directly enter the main consumption regions of northern China," Xuejian noted.
The Cherry Committee said it plans to publish its first estimate for the new season in November.