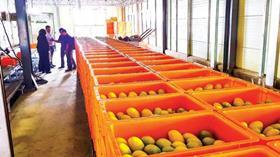 A Free Trade Agreement between China and Cambodia is expected to be signed within 12 months after the countries concluded negotiations on 20 July.
According to a report from Xinhua, one of the key features of the agreement is greater market access to China for Cambodian agricultural products.
The Cambodian Commerce Ministry said in a press release the FTA will create opportunities for both countries.
"The successful conclusion of the negotiations for the FTA in a short time has clearly reflected the commitment of the two countries' leaders to building closer ties, and this FTA will provide a lot of socio-economic benefits to the two peoples,' the ministry said.
Seang Thay, secretary of state and spokesman for Cambodia's Commerce Ministry, told Xinhua that Cambodia saw huge potential for products such as bananas and mangoes in China.
The General Administration of CustomsChina (GACC) also announced an updated protocol for Cambodian mangoes, which require heat treatment.
"Steaming heat treatment requires that the core temperature of mango (the largest fruit) reaches 47 ℃ (relative humidity is 95 per cent) for 20 minutes; hot water treatment requires that the fruit must be completely immersed in water, and the treatment temperature is 48 ℃ or above for 60 minutes," the GACC said in its update.