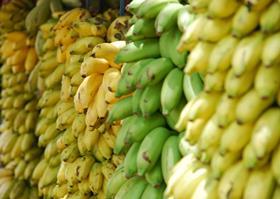 The General Administration for Customs China (GACC) has given the green light for five new Cambodian companies to export yellow bananas to China.
In a Facebook post, the Chinese Embassy in Cambodia said a decision was made to allow Sing He Yi Agriculture and four other agricultural companies to be the fourth Cambodian plantation and packaging plant to export bananas to China.
To date, there are 15 registered banana plantations in Cambodia, planting more than 8,000 hectares of bananas. There are also 21 packaging factories, which the embassy said had greatly improved the processing capacity, production, export patterns and competition of banana crops in Cambodia.
Hun Lak is the director of Longmate Agriculture, which has invested in a 1,000ha banana plantation in Kampot province. He told The Phnom Penh Post allowing more companies to export yellow bananas from Cambodia would attract further investment.
He said China has a market demand of 12m tonnes of bananas per year.
"Cambodia's exports of yellow bananas to the Chinese market is increasing. Investment in crops will increase, which is a positive sign for Cambodia's agricultural sector,' explained Lak.
He is optimistic Cambodia's yellow banana exports will double in 2020. According to The Post, Cambodia exported more than 150,000 tonnes of bananas in 2019.
"Our banana exports may double to between 250,000 and 300,000 tonnes this year due to increased investment and growth in cultivation land.'
"The yield of bananas will increase accordingly, as long as the Chinese market is still open to Cambodia without export quotas. But we need to have hygiene standards in line with Chinese market demand," added Lak.