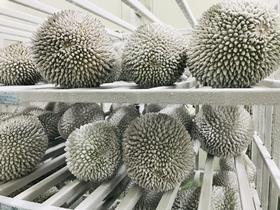 Whole Malaysian durian will now be available in China after the two countries signed a protocol last week to allow frozen whole durian to be exported, effective immediately.
Previously, Malaysia was restricted to exporting frozen durian pulp and puree to China, but this new agreement will further open the Chinese market to Malaysian exporters.
The announcement of the protocol by the General Administration of Customs of China came with a number of conditions. Notably, durian must be stored and transported at temperatures of -18°C or below.
Freezing is required before the fruit is transported, and pulp and puree products (without shell) must be frozen for 30 minutes at -30°C or below. Whole durian (with shell) must be frozen for no less than one hour, between -80°C and -110°C.
Vincent Chan, general manager of Sovin, an investment company which owns a durian orchard in Malaysia, said Malaysian durian is high quality and renowned for its excellent taste. However, Chinese consumers prefer to buy durian whole, he said, so they can enjoy opening it instead of buying the pulp. The new protocol allowing shipments of whole fruit therefore represents a significant breakthrough for Malaysian durian exporters.
"It is like a shot in the arm for Malaysian exporters, who are seeing the door opening to the Chinese durian market," Chan said.
The announcement does bring some challenges for Malaysian durian exporters. Chan said the -18°C cold chain requirement was harsh as the liquid nitrogen technology used to freeze the durian is difficult to control and costly.
Despite this, he said it will not prevent Malaysian durian exporters from entering the market to capitalise on the huge demand.
Durian is highly perishable, so most product shipped to international markets is processed as frozen product. It is then thawed and sold 'fresh' on retail shelves. Freezing the fruit can dramatically extend its shelf-life and the segments of fruit are reported to remain very similar in taste to fresh product if the process is completed correctly.
A spokesperson for Malaysia's Federal Agricultural Marketing Authority (FAMA) told Asiafruit last month that once the protocol for whole frozen durian was established the Malaysian government would start negotiations with China for access for fresh durian.