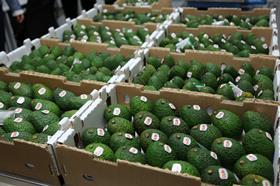 Philippine avocados officially have access to China after the first 7.6 tonne shipment arrived in Shanghai on 31 March.
The Hass avocados were exported by Dole Philippines and imported by Dole China. A ceremony was held on 1 April at Dole's Shanghai distribution centre to mark the occasion, where representatives from the Philippine Trade and Investment Centre and retailer Hema were among those in attendance.
Access was granted by the General Administration of Customs of China in November 2019, subject to a number of requirements including certification, traceability and pest management.
A Dole spokesperson said now the first avocados had arrived, the company is planning weekly shipments depending on how the market develops.
"Subject to the production performance of this season, we can basically supply the majority of a year, about nine months," the spokesperson said.
"We will collect customer feedback in a timely manner on Philippine avocados and gradually increase supply."
Dole also plans to expand its avocado yields and production area in the Philippines in addition to vigorously developing the Chinese market with the aim of increasing the market share of Philippine avocados in China.
In the meantime, the first batch of avocados will be sold via Hema and in future, Dole's Philippine avocados will be sold online and offline through multiple channels, with a focus on the Dole brand.
"These avocados will be marketed under the Dole brand (with the brand as marketing focus instead of the origin) as currently, Dole is the only company authorised by the Chinese customs to export Philippine avocados to China," the spokesperson said.
"Nonetheless, we want to have a holistic approach to our brand image and solidify our customer recognition. As avocados become more and more widely accepted in China, we want to consolidate supplies from Mexico, Chile, Peru, New Zealand, the Philippines and other countries, to make avocado a category with steady year-round supply."
The addition of the Philippines to the list of suppliers is set to come as a major boost towards Dole's goal of year-round supply, especially given its proximity to China.
Still, avocados sourced from the Philippines will be processed through Dole's ripening facilities in China to suit customers' needs.
"To satisfy our customers' varied requirement for the degree of ripeness, and to minimise the impact on the fruit in the logistics process, Philippine avocados will be ripened in Dole's facilities in China," the spokesperson said.
"Our processing and distribution centres are equipped with digital ripening facilities, which can give the avocados a more even colouring."