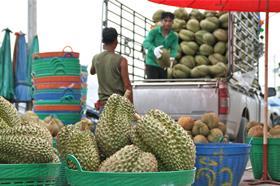 Thai durian exporters have secured improved access to China following the decisions of Chinese authorities to open a new border gate in Dongxing.
According to a report from The Nation, exporters were facing congestion at the three ports of entry along China's southern land border, Mohan, Youyi Guan and Pingxiang.
Phichead Wiriyaphaha, director-general of Thailand's Department of Agriculture said the addition of a fourth border gate should alleviate congestion and facilitate more durian exports.
"The opening of the Dongxing border gate is great news for Thai fruit farmers and exporters, especially during the durian season in April and May," said Wiriyaphaha.
"Once the Dongxing gate is opened, we expect the export of durian to rise significantly. The department is planning to boost personnel for issuing certificates of quality to speed up the export of fruit."
Wiriyaphaha said Thailand expected to increase its durian exports to China as more producers had become GAP certified, an export requirement for China.
"The General Administration of Customs of China website lists 38,757 plantations and 1,587 food-processing facilities that can export fruit to China," Wiriyaphaha said.
"This marks a significant increase from the 30,076 plantations approved in 2020."