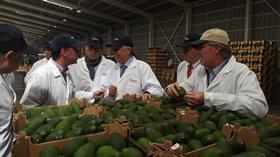 As Chile continues to expand and diversify its avocado exports to Asia there is a belief that the China market still holds plenty of potential.
According to a report from Xinhua, ProChile, the Chilean export and investment promotion agency, said Asian consumers are developing a taste for Chilean avocado.
Francisco Contardo, executive director of Chile's Avocado Committee, said Chinese consumers sought high-quality products with high nutritional value.
"Avocados from Chile have both components and it is because of this that in the past years we have been exporting avocados to China," Contardo said.
"(Chinese) consumers continue to prefer us as they become more knowledgeable about the product and become critical of quality. The Chinese market is a growing market for avocado consumption and (the product) has high potential.'
China remains the largest Asian importer of Chilean avocados accounting for 8.8 per cent of Chile's total avocado exports according to ProChile.
Jorge O'Ryan, general director of ProChile, said that Chile's experience in China had helped the country develop its avocado exports across Asia.
"The Chilean avocado has consolidated its presence in large markets and today it is making its way into the countries of Asia," O'Ryan.
'We continue working to open the door to new destinations, demonstrating that our food meets the highest quality standards, privileging functionality and safety, with qualities that are increasingly essential for Asian consumers."