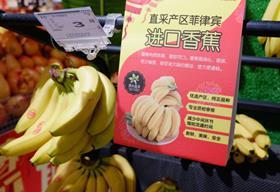 China is set to restore full access for Philippine bananas, after some exporters had their shipments suspended in the wake of quarantine breaches earlier in the year, according to local media reports citing the Philippine Agriculture Department.
During his courtesy call at the Department of Agriculture, Chinese Ambassador Zhao Jianhua said China would now accept bananas and pineapples from Philippine-based eaxporters, according to reports in the local press.
"We very much appreciate the action of the Chinese government as this will relieve our banana farmers from the serious problem during the suspension considering that China is a huge market for our banana industry," Agriculture Secretary Emmanuel Piñol told The Philippine Star over the phone.
A number of exporters lost access to the Chinese market earlier in the year following quarantine breaches. China destroyed 35 tonnes of Philippine bananas valued at US$33,000 at Shenzhen port last March following two notifications of non-compliance from quarantine watchdog AQSIQ.
AQSIQ reported findings of the pest Dysmicoccus neobrevipes in a shipment made by NKM Import/Export to Dalian Kawoo Import and Export. It also intercepted a shipment from Sumifru to Shenzhen Everglory Trading with a carbendazim level of 0.199 mg per kg, exceeding the maximum residue level of 0.1 mg per kg.
The Agriculture Department reported that as of 28 June, 27 Philippine exporters were suspended from shipping to China by AQSIQ. However, ten of the suspended exporters promptly responded with corrective actions which were verified by the Bureau of Plant Industry and forwarded to AQSIQ to request the lifting to the suspension. AQSIQ inspectors visited the Philippine last month to evaluate the corrective actions, and has subsequently cleared the path for exports to resume from these companies.
Besides easing restrictions on banana shipments, China also expressed interest in increasing its imports of other Philippine fruits, particularly high-value commercial crops such as mangoes, coconut and dragon fruit, according to the local media reports.
In the eight months to August, China's banana imports from the Philippines stood at 388,000 tonnes, down 15 per cent year-on-year, according to China Customs data analysed by Fresh Intelligence. Imports from Ecuador came in at 132,000 tonnes for the eight-month period, a drop of 43 per cent on the previous year. Nevertheless, supplies from the Latin American nation came close to matching volumes from the Philippines during certain periods.
The downturn in Philippine imports appears to have more to do with weather-induced supply constraints, than quarantine restrictions.
In an exclusive interview featured in Asiafruit's October edition, head of the Philippine banana growers and exporters association (PBGEA) Stephen Antig said the sector was on the road to recovery after several years of drought, disease and devastation.
Rains in May ended several years of drought brought on by El Niño weather patterns, and these are seen as critical to developing the new plantations that replaced those devastated by typhoon Bopha. Production from within the association was down by 14 per cent between January and June this year, said Antig.
"As far as the market is concerned, I believe importers have been buying from other sources because of the low volume they've been getting from the Philippines," he noted. "Once we recover from the effects of El Niño, I am sure we'll be able to serve their requirements."
The full interview with PBGEA head Stephen Antig is published in the October edition of Asiafruit - out now. Email subscriptions@fruitnet.com to order your copy.