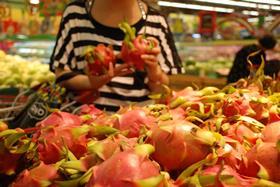 China's General Administration of Quality Supervision, Inspection and Quarantine (AQSIQ) issued a notification to take more stringent measures on Vietnamese and Thai dragon fruit as well as Vietnamese banana imports, on 29 May, due to last one year.
The notification stated quarantine officials found grey pineapple mealy bug (dysmicoccus neobrevipes) in Vietnamese bananas as well as dragon fruit infected with Jack Beardsley mealy bug (pseudococcus jackbeardsleyi) and other harmful pests in the imported fruit from Thailand and Vietnam.
The timing of the announcement is seen by many in the trade as a political move by China, with restrictions on Thai dragon fruit an arbitrary measure, since imports of dragon fruit from the country are negligible.
Since 1 May, when China deployed an oilrig in contested waters in South China Sea, anti-China protests have erupted in Vietnam and tension between the nations has been mounting.
China's dragon fruit imports are big business, with the overwhelming majority coming from Vietnam. Import volumes have grown by a compound annual growth rate of 43 per cent over the past five years to reach 469,245 tonnes in 2012, according to data collated from the International Trade Centre. That makes them China's second largest fresh fruit import category by volume after bananas, accounting for more than 16 per cent of total fresh fruit imports. As Vietnam's major trade partner, China accounts for 35 per cent of Vietnam's fruit and vegetable export value, according to the Vietnam Fruit and Vegetable Association.
Reciprocal effects
Pham Minh Nghia of Vietnamese fruit import broker NC Group told Asiafruit that the maritime conflict has reciprocal effects, not only affecting Vietnamese trade into China, but also making it harder for Chinese produce to enter the Vietnamese market, with some Chinese goods also being boycotted by consumers within Vietnam.
Nghia said the conflict would limit imports of Chinese grapes in the coming season, which could potentially boost sales of California grapes in Vietnam.
Calls to cut Vietnam's reliance on China
Vietnamese economists are now calling for Vietnamese businesses to focus on other markets and redirect their reliance on China as a major export destination.
A report on Vietnam's economic growth issued by the Vietnam Centre for Economic Policy Research (VEPR) has forecast Vietnam's economic growth to slow this year to 4.15-4.88 per cent (down from 5.42 per cent in 2013), with trade between China and Vietnam slowing due to increased tensions.
VEPR's director Nguyen Duc Thanh said at the launch of the report that while Vietnam's economy is heavily reliant on China, Vietnam should focus on boosting trade with the EU and the Trans Pacific Partnership Agreement.
"We should establish long-term cooperation with strategic partners such as South Korea, India, Australia and other South East Asian countries to gradually reduce the dependence on China," said the director, according to local news site Tuoi Tre News. "The need for reform and becoming less dependent on China has become bigger and clearer at this time of high tension."
China's imposition of tighter quarantine procedures for dragonfruit has echoes of its clampdown on banana imports from the Philippines a few years ago. In 2012, tensions between the Philippines and China over the Scarborough Shoal, a group of islands in the South China Sea, was widely seen as the trigger for China to restrict imports of bananas from the Philippines, which at the time made up 30 per cent of the Philippines' banana exports. The ban caused major economic pain to Philippine banana growers who were advised to look to other export markets.