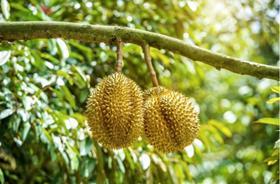 Thailand's growing durian industry has been able to sidestep some off the effects of the coronavirus (covid-19) pandemic by dealing directly with Chinese buyers.
According to a report from the Nikkei Asian Review, Chinese demand for durian remains strong as some of Thailand's production regions continue their harvest in May.
Vipavadee Teplasamee, a durian grower from the Chanthaburi provinces, Chinese buyers had already visited the country's production regions in March to secure the fruit before Thailand entered lockdown, agreements which provided certainty for growers.
'The Chinese buyers have built up a wide network and know when we are ready to pluck the fruits,' Teplasamee told the Nikkei Asian Review. "This year should be another good season.'
The demand in China that has resulted in these buyers' visits has also seen durian cultivation in Thailand explode.
Somnuck Jongmeewasin, environmentalist of Silapakorn University, told the Nikkei Asian Review, there has been a shift from rubber production to durian production in regions such as Chanthaburi.
'It is hard to keep track of the new durian orchards coming up. Every day, farmers are changing crops from growing rubber to durian," Jongmeewasin said.
'The rubber prices dropped over the last five years, and it drove farmers to shift to the more lucrative durian. Almost half of Chanthaburi's agriculture area is now growing durian.'
According to Silapakorn University research, rubber cultivation in Chanthaburi has shrunk to 89,782ha from 177,736ha in 2012, while durian orchards in the province now cover 30,400ha.
Much of this growth will be used to supply China's demand which accounted for 70 per cent of Thai durian exports in 2018, according to the report.