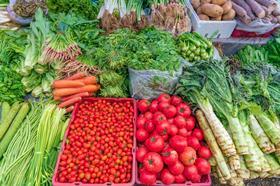 China has published new regulations for the approval of gene-edited crops in a bid to accelerate the development of products to bolster its food security.
The Ministry of Agriculture and Rural Affairs published the new guidelines on Monday as part of a range of policies to shake up the country's seed industry, Reuters reports.
The draft rules stipulate that once gene-edited plants have completed pilot trials, a production certificate can be applied for, bypassing the protracted field trial process required for the approval of a GM plant.
Han Gengchen, chairman of seed company Origin Agritech, said that meant it could take only a year or two to get approval for a gene-edited plant, compared with around six years for GM ones.
Reuters said is not clear how many companies or institutes are ready to apply for approval of edited products.
Chinese researchers have already used gene-editing to create lettuce seeds rich in vitamin C and herbicide-resistant rice, according to a Global Times report.
The country imports a significant share of its vegetable seeds and wants to reduce its reliance on overseas breeding.
Gengchen said the move would open the door for plant breeding, providing "an infinite opportunity to improve crops more precisely and much more efficiently".