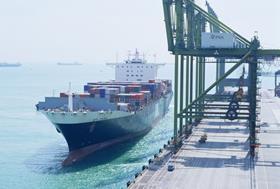 Chinese president Xi Jinping has announced a US$1.4bn joint investment in building the Colombo Port City alongside Sri Lankan president Mahindra Rajapaksa while visiting Sri Lanka on Tuesday.
Seen as a competitive ramp up against Japan and India, the agreement to build the artificial island outside of Colombo is part of China's vision of a twenty-first century maritime silk road.
In the first visit to Sri Lanka by a Chinese head of state in 28 years, Xi is also due to visit South East Asia's only mega port, the Colombo South Container Terminal, of which the Chinese government has a controlling interest.
In a letter published in the state-run Sri Lankan paper Daily News, president Xi said that China resolutely opposed foreign interference in Sri Lanka's internal affairs.
"China and Sri Lanka need to turn our wishes into a driving force and enhance exchanges and cooperation between us in maritime, business, infrastructure, defence, tourism and other areas to accelerate the renewal of the maritime silk road for the benefit of our two countries and peoples," said Xi.
China has now overtaken India as a major investor in Sri Lanka, sparking concerns China is pursuing its 'string of pearls' strategy in a bid to secure maritime access across South East Asia.
Both the Chinese and Sri Lankan governments have downplayed concerns of a military ramp up, repeatedly assuring the investment in the Colombo Port City is a move to boost trade and tourism.
The Chinese president is due to meet India's new prime minister Narendra Modi on Wednesday, when he is expected to commit US$50bn to India's transport infrastructure including upgrading India's ports, trains and roads in order to boost economic growth.