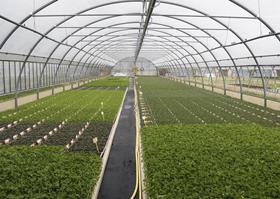 China's Ministry of Agriculture and Rural Affairshas set a goal or reaching 2m hectares of protected cropping facilities in the country by 2025 as it encourages investment in the sector.
The Ministry issued guidelines, which outlined a range of objectives including upgrading controlled-environment agriculture (CEA) facilities such as greenhouses, increasing mechanisation and using new types of produce.
The issuing of these guidelines follows the ministry identifying the potential of protected cropping to ensure the supply of produce, increase growers' incomes and accelerate the rural economy.
The ministry encouraged a focus on technological innovation to assist the integration of agricultural machinery and to help optimise the setup of these facilities and eventual production.
It also recognised progressing cultivation techniques and introducing new varieties of produce would also be key to success.