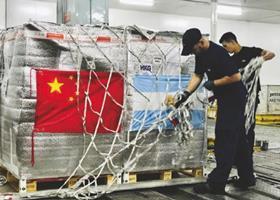 Northern Patagonia will be able to export cherries and other fresh fruit directly to China from 2021 after the area was officially declared free of fruit fly.
It means that it will be possible to airfreight cherries to China without having to subject them to cold treatment, a process that incurs added costs and time.
The announcement was made by China's Department of Plant and Animal Quarantine Supervision of the General Administration of Customs following a recent visit to the region.
An otherwise positive 2019/20 export campaign was marred by complications caused by the coronavirus outbreak in China.
Adolfo Storni, president of Extraberries, told Los Andes that total shipments were estimated to be around 6,000 tonnes, a 30 per cent increase on the previous season.
He said prices had generally been good, except during the weeks after the Chinese New Year, when the market slumped as a result of the controls imposed by China in the wake of the outbreak.
Private sector sources were quoted as saying that around 50 containers of cherries that arrived after 21 January remained stuck in Chinese ports for several days, resulting in estimated losses of of US$4m, according to a report in Diario Río Negro.
China was the main destination for Argentine cherries in 2019/20, accounting for 33 per cent of shipments. This was followed by the US with 30 per cent and Europe with 20 per cent, with the remainder going to the Middle East.