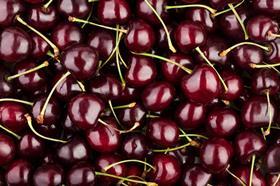 Chinese cherry imports are facing increasing competition from domestic supply, which is forecast to rise significantly in the 2021/22 marketing year (12 months to 31 March 2021).
According to a report from the USDA, China's cherry production is expected to rebound by almost 15 per cent to 600,000 tonnes in 2021/22 after cold temperatures and excessive rain-affected China's 2020/21 crop.
This upward trend is set to continue in the next three to five years as production area expands and new plantings bear fruit, from 2020/21 to 2021/22 the increase was 5,000ha.
Conversely, the increase in domestic production has pushed prices down in the past few years, a trend exacerbated by the Covid-19 pandemic, according to the report.
"Shandong cherry farmers indicate that the outbreak of Covid-19 in 2020 caused cherry prices to hit record lows when wholesale markets were closed and restrictions on road transportation prevented urban wholesalers from sourcing cherries directly from production areas," the report explained.
"Chilean cherry prices fell by nearly 15 per cent year-on-year due to a particularly strong harvest during MY2020/21. Additionally, media reports that traces of the Covid-19 virus were detected on the outer packaging of Chilean cherries dramatically lowered prices during Chile's peak export season.
"Prices recovered following efforts by the Chilean industry and fruit associations to highlight the positive qualities of Chilean cherries."
Despite these challenges Chinese consumers still have an appetite for cherries both domestic and imported.
"Demand for cherries remains relatively strong. The per capita consumption of cherries will continue to increase in the foreseeable future as production and cold-storage infrastructure improves," the report said.