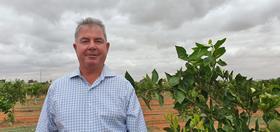 What impact has the last 12 months had on Australia's citrus industry, and how is it situated heading into the 2021 season?
Richard Byllaardt: Citrus Australia is acutely aware of the challenges the Covid-19 pandemic has presented to Australia's citrus industry, namely the changes to export protocols in terms of picking and packing, the severe lack of labour and the increased seafreight costs. We've also found a number of key export markets have introduced far more stringent processes for checking imported fruit for traces of Covid-19. We remain committed to supporting Australia's citrus growers in addressing each of these challenges. Production for the 2021 season itself is looking really good, and we're anticipating similar export volumes to last year.
It's an interesting time to be stepping into the position of chair of Citrus Australia. What have you identified as the key areas requiring your immediate attention?
RB: Labour is the biggest issue. As much as we'd love to have more Aussies out picking fruit, the reality is we need to strike a balance between locals and RSE's (Recognised Seasonal Employment). The government has been helpful in this regard, and I urge any growers who are struggling to find workers to contact Citrus Australia as soon as possible.
Domestically, it's great we have eradicated citrus canker from Australia, but biosecurity remains an important area for us. Alongside this, the challenge associated with repairing Paradise Dam will certainly be a hot topic for us.
Trade relations between Australia's major citrus export market, China, have been under immense pressure recently. What's the outlook for the Chinese market from your perspective, and does Citrus Australia have any plans to further diversify its export markets?
RB: Chinese consumers recognise that Australian citrus is the best in the world, and I am confident our clean, green image remains in-tact in the market. I think it's important that we pay attention to any political instability, be it in China or anywhere else, and we must be able to roll with any punches. Understanding your trade partners is vital to success, and this is something I think we can improve not just in China, but everywhere.
Looking ahead, what do you hope to achieve during your time as chair of Citrus Australia?
RB: Citrus Australia is in a strong position and I want to see us capitalise on that strength by increasing our grower membership. Internationally, I'd really like to see Australian citrus grow in some of the smaller markets across Asia, such as Vietnam, Korea, Indonesia and India. Australian citrus is present in these markets, but each of them have such huge potential for growth. The key to growing these markets is finding and encouraging the middle class to purchase Australian citrus. I'd like to see our exports grow in these markets over the next five years.