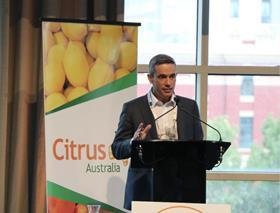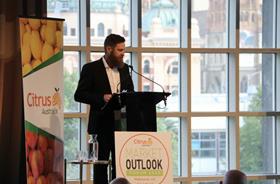 Citrus Australia's biannual Market Outlook Forum brought together the national industry ahead of the 2020 season in Melbourne this week to discuss a range of global issues and trends, looking at how they might shape the future of this thriving business.

Taking place on 3-4 March, the Citrus Market Outlook Forum attracted more than 200 delegates, including growers, packers and marketers as well as many providers of technology and services to the sector.

Opening the conference, Citrus Australia CEO Nathan Hancock said the industry was on a strong footing following another record export season in 2019 that saw revenues top A$540m. "This is the first time our exports have exceeded half a billion dollars," he noted.
Greater China accounted for more than 40 per cent of Australia's total citrus exports, and with young plantings reaching maturity and new plantings going into the ground, Hancock underlined the need to continue to develop sales into China, at the same time as expanding into new markets such as India.

The forum, which was moderated by Fruitnet's Asia editorial team, covered a diverse range of topics. Global consumer trends were in focus, covering everything from the impact of growing environmental concerns across Europe to the influence of coronavirus on shopping habits in China. Brand protection and new traceability technologies were also under discussion. In addition, the Market Outlook Forum featured in-depth analysis of trends in Australia's citrus exports, domestic sales and plantings.
Sustainable packaging
As global concerns grow around environmental degradation, packaging has come under increasing pressure. David Porta, group business strategy and sales director of Spain-based global packaging specialist Giró, challenged some common perceptions on plastics, and discussed some of the solutions the company is developing in this changing environment.

"Is plastic the culprit [for environmental degradation]? No, but we all need to educate consumers about intelligent disposal of plastic," said Porta. "It's not a question of whether materials are good or bad, but whether the materials are used in the correct way or not.

"That depends on efficient waste collection, classification and recycling processes in order to have a circular economy. Currently, there is a lack of infrastructure for selection and recycling for the majority of countries including Australia – this needs to be vastly improved to reduce plastic in landfill."

Major global supermarket retailers are reacting to consumer and government pressure on the issue, but Porta said lack of infrastructure meant there was a lot of confusion.

"In Europe, major retailers like Carrefour, Lidl in Germany and Coop in Italy are asking fresh produce suppliers to remove packaging from small packages that weigh 1.5kg or less. They're also requesting 100 per cent compostable materials.

"In the UK, the US and Australia, we see a different approach. There is a move towards light weight packaging and recyclable packaging – and they don't want compostable materials as they could be disposed of in plastic bins and contaminate those."

In addition to a line of fully compostable packaging, Giró has developed lightweight and recyclable plastic packaging solutions, said Porta. "For instance, our Ultrabag is a net bag that is more stretchable and uses less plastic, so we've been able to reduce the weight of the packaging from 18g to 6g."

Zero residues
A 'go green' movement in Europe has also brought unprecedented pressure to bear on agrichemical usage and post-harvest fungicides.

Clara Montesinos, R&D manager of Decco, a global leader in post-harvest treatments headquartered in Spain, said advocacy groups such as Greenpeace were placing intense pressure on retailers. "Retailers like Auchan, Carrefour and Albert Heijn are going residue-free and they're getting rid of post-harvest fungicides," she said. "Producers get no premium for zero-residue product – it's just become a way of guaranteeing a sale."

Montesinos explained how Decco was helping the Spanish citrus industry to adapt to these changes and find alternatives to agrichemicals through the use of pheromones and lures. Citrus Australia's agrichemical manager Alison MacGregor said that while the industry is performing well on MRLs, it was also preparing for "softer chemistry".
Brand protection

A session on brand protection looked at some of the innovative technologies now being developed to provide traceability throughout the supply chain. A new industry pilot involving unique fingerprint technology Laava, blockchain specialist Trust Provenance, Citrus Australia and Agriculture Victoria was announced in the session. Gordon Fisher of New Zealand-based company Oritain also outlined the company's scientific traceability solution, which detects trace elements and collects samples at the point of harvest and analyses these to establish a benchmark and origin fingerprint.

Coronavirus: challenge and opportunity?

The focus then turned to coronavirus (Covid-19), looking at the impact of China's shutdown on the fresh produce supply chain and consumer behaviour. Kurt Huang, general manager of major fresh fruit import logistics service provider Shanghai Oheng Import and Export Co, delivered a video update from the market. Asiafruit China editor Yuxin Yang then discussed the impact of coronavirus on consumer and retail habits in an on-stage interview with Fruitnet's John Hey.

While the disruption in China was a concern for Australia's citrus industry with the season around the corner, Yang said there were potential positive effects. "In China, it's not common knowledge that citrus, with its high Vitamin C content, can help boost the immune system and fight viruses, but this is slowly changing," said Yang. "China's national expert team managing the outbreak has been advising people to eat more fresh produce rich in Vitamin C and this has really helped boost awareness of the benefits of citrus fruit."

The lockdown in China, which has forced many consumers to stay at home, has seen a surge in online purchasing of fresh fruit and vegetables, Yang observed. It has also sparked a boom in online entertainment, especially video streaming services. Yang suggested such channels could present a good opportunity to market the health benefits of Australian citrus in the coming months.

China's coronavirus shutdown has also highlighted the extent to which many industries – Australian citrus included – have concentrated on this market, and underlined the need to develop alternative markets.
India: a mandarin market?

India is newer market on the radar for the Australian citrus industry, and it came under the spotlight in a session exploring its potential. Hancock shared the findings of a recent study tour he had made to India, while Sam Munsie from the trade and market access division of the Department of Agriculture, Water and the Environment outlined the market opportunities across the Indian subcontinent.

Australian citrus enjoyed a strong window of opportunity in the India market in 2019, with sales running from June through September. Orange exprts increased fourfold to 6,700 tonnes while mandarin sales more than doubled to just over 1,000 tonnes.

In the ensuing panel discussion, Neil Barker, managing director of global citrus exporter BGP International, said Indian market conditions were unusually favourable for Australian citrus in 2019, and pointed out that significant challenges remained to building a sustainable presence amid fierce competition from Egypt and South Africa.

"One of the main difficulties for oranges is a reluctance on the part of Indian importers to handle navels as they're concerned about breakdown of the fruit," he explained. "They prefer Valencia oranges, and there needs to be more education of the trade on handling of navels and so on to address this."

Barker suggested India could be a bigger opportunity for mandarins moving forward. "I firmly believe India is a better market opportunity for mandarins, as opposed to oranges – they take all sorts of sizes, mandarins are not used for juicing, and consumers are not sensitive to seeds."


Doubling down on domestic trends

The second day of the event turned the focus on the question of what consumers want, with a particular focus on the domestic market. Speakers included Darren Keating, CEO of PMA A-NZ, Woolworths citrus category manager Dan Scott, and Nielsen director of analytics and head of fresh food insights Chanel Day. Day analysed citrus consumption trends in Australia, and outlined a number of strategies to grow sales focused on targeting different channels, occasions and eating occasions. 

Citrus Australia's citrus quality and market information Mara Milner also shared the findings of the 2019 Tree Census, which maps industry plantings and provides projections on future production. Lemons, Afourer and Murcott mandarins, and mid-season navels are seeing are all set for dramatic increases in production over the next three years, based on current plantings, Milner explained. Bearing acreage on lemons is forecast to grow by a third, with production forecast to hit 95,000 tonnes by 2023, while Afourer mandarin yields are forecast to double in the same period, to over 100,000 tonnes.

The final session of the event focused on meeting consumer demand for ethical labour and food safety. Citrus Australia market development officer Nicole Zerveas explained to growers why food safety was such a key issue for consumers. Growcom's Thomas Hertel discussed the progress of the Fair Farms initiative, while Citrus Australia's project officer for policy and membership Kerry Thompson outlined some of the advocacy work the body is undertaking on advocacy in labour.

The Market Outlook Forum concluded with a boat tour of the Port of Melbourne.
Awards honour pioneers 

At an awards dinner on Tuesday evening, Citrus Australia also recognised several key companies and people for their industry contributions and leadership. South Australian grower-packer Nippy's was recognised for its innovation in juice exports, while marketer-exporter Pinnacle Fresh won an award for its Dracula citrus brand and associated retail promotions that have gained significant traction in the US market with their in-store theatre.
Bill Robinson, who retired from Mildura Fruit Company at the end of February, was recognised for his pioneering contribution to the industry, particularly in helping growers to meet the protocol for China and kick-start demand from that market.

Jack Parr was also remembered for his legacy in improving production techniques and expanding potential markets, which saw the development of Australian citrus exports to Japan, the introduction of new technology and the expansion of integrated pest management. Jack passed away in 1982 and his grandson Wayne collected the award.