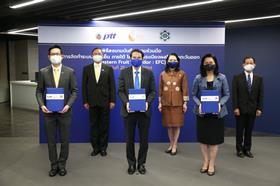 Thai growers could soon have access to new cold storage facilities following the signing of an agreement under the Eastern Fruit Corridor Project (EFCP).
A Memorandum of Understanding (MoU) was signed to establish a 4,000-tonne facility with blast freeze technology in Map Ta Phut, with the aim of helping growers maintain the quality of the fruits for year-round sale.
The MOU signed by Kanit Sangsubhan, secretary-general of the Office of the Eastern Economic Corridor (EEC), Auttapol Rerkpiboon, chief executive and managing director of PTT Public Company and Somchint Pilouk, governor of the Industrial Estate Authority of Thailand (IEAT).
It was witnessed by Thailand's Deputy Prime Minister and minister of energy Supattanapong Punmechow who said the implementation of the EFCP was an important step in strengthening the country's agriculture sector and raising the incomes of the farmers and the livelihood of the local communities.
Supattanapong said the success of the project would ensure that farmers achieve stable and consistent incomes and it would add value to Thai agricultural products, making them more competitive and strengthening Thailand's emergence as the global marketing centre for fruits.
Under the terms of the MoU PTT will invest in the setting up of the facility, the IEAT will provide the land and the EECwill be responsible creating the administrative structure and coordinating with concerned parties to manage the project.
The development of Thailand's cold storage capabilities is one of the four components of the EFCP, the others include establishing modern trading system based on e-commerce and e-auctionand investing in packing.
Understanding market demands, which the EEC is currently doing for domestic and export markets for durians, mangosteens and other fruits.
Finally, the organising of the system of membership for fruit growers and cooperatives participating in the project. This would involve the development of production technology in order to ensure premium quality of the products in accordance with market demands.