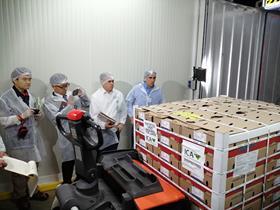 Cartama, together with its partner Mission Produce, and Pacific Fruits have carried out the first shipment of Colombian Hass avocados to Japan.
Cartama said its container was packed at its's facility in the municipality of Pereira and trucked to the port of Buenaventura from where it was shipped to the Japanese port of Yokohama on 7 November. It is due to be received by Tokyo-based Farmind at the beginning of December.
"This shipment represents an achievement by the entire Colombian avocado sector, as well as the different government entities, to gain access to new markets," said Cartama's manager Ricardo Uribe. "Two years ago we reached the US market and now we've made it to Japan".
Rodolfo Ahumada of Pacific Fruits said the company sent 18.3-tonnes of avocados in its initital consignment. He told Fruitnet that the company was also preparing to make the first shipment of Colombian avocados to China in December, along with Cartama and Westfalia Fruit Colombia.
Colombia joins other suppliers such as Mexico and Peru in the Japanese market, which is growing constantly. With a per capita consumption of 0.5kg and a population of 127m, there is plenty of potential for Latin American suppliers to increase their market presence.
Japan's Hass avocado imports totalled 74,096 tonnes in 2018, an increase of 22 per cent compared to the previous year.
Uribe noted that Cartama was employing every possible post-harvest treatment to guarantee the good arrival of the fruit, such as the application of substances to prevent diseases, use of ethylene filters inside the modified atmosphere container, temperature control and harvesting the fruit with the right percentage of dry matter.
He praised the efforts of the Colombian government, industry body Corpohass and entities such as the Colombian Institute of Agriculture (ICA) and Procolombia, in spearheading Colombia's drive into new export markets.