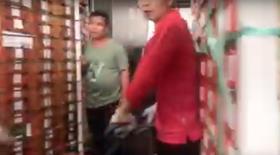 Asoex says it is closely monitoring the situation of fresh fruit exports to Asian markets in the wake of the outbreak of the coronavirus in China.
The association's president Ronald Bown said that to date the disease had not affected the transit of fruit shipments to Asia.
"So far our exports have carried on as normal," Bown said. "But we are monitoring the situation for any possible effects that the coronavirus could have on our partners and commercial agents, as well as on the consumption of our fruits, especially in the markets that are suffering most from the disease, as is the case in China."
Bown noted that shipments of cherries, the main product that Chile sends to China during the Chinese New Year period, were up 27.7 per cent on the same period of 2018/19, reaching 228,225 tonnes.
"Many of our cherries were sold before the Chinese New Year and Spring Festival, but we do sell fruit sold later on during the holiday, so it's too early to fully assess the impact of the outbreak," he continued.
"We know that sales have been a bit slower at retail level, but there's good momentum online and at delivery platforms."
Nevertheless, the fact that the authorities had suspended public celebrations and many Chinese were not travelling as is customary during this time of year but instead staying at home, is likely to have some impact on the latter stages of the season.
The president of the Federation of Fruit Producers of Chile (Fedefruta), Jorge Valenzuela, confirmed Bown's assessment of the cherry situation.

'We have closely followed the evolution of cherry sales in China at this time and we can say that, so far, we have not seen significant effects from the coronavirus,' he said.

'The bulk of exports were sent or marketed prior to the measures taken by the Chinese authority to suspend Chinese New Year celebrations or quarantine cities, and until now we have observed good prices. Demand has been consistent, due to the size of the country and the quality of our offer.

'At the same time, improvements in cold chain logistics means that products like cherries can endure more days without losing condition at destination, which boosts sales and prices.'
Valenzuela said that cherry exports were expected to top 200,000 tonnes this season, up from 180,000 tonnes in 2018/19.

'Now we will be attentive to how prices unfold in the coming days with all sanitary measures that have been enforced to contain the spread of the virus, but so far we have not seen any indication that we are going to have problems,' he said.
Bown said Asoex would continue to monitor the situation in all markets and release further updates in due course.