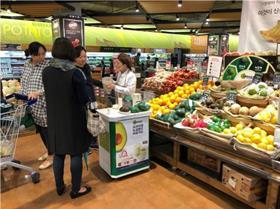 The reluctance of South Korean consumers to leave their homes due to the coronavirus (Covid-19) as had a significant effect on the country's agricultural market.
Although new infections have been on a general decline in South Korea, consumers remain cautious and have changed their habits, according to a USDA report.
The most notable change has been in online purchasing with sales skyrocketing. While there has been an increase in grocery shopping; restaurants, bars and the like have all seen a sharp decline in footfall.
Consumers' habits have changed when they do make the trip to conventional retailers. Sales are up but visits are down meaning when consumers do visit, they are stocking up on food.
As a result, warehouse-style stores, such as Lotte's Big Mart, Shinsegye's Traders, and Costco have also seen sales increase the report said. Meanwhile, the demand for cooking staples including fresh produce has increased as more consumers cook at home.
When it comes to supply, the report said there are no instances of major disruptions to food production or supplies, although imports and exports have both reduced.
Some farmers have expressed concerns about labour shortages as the outbreak has disrupted the arrival of foreign seasonal workers.
However, the South Korean government announced it a US$49m farm loan programme to support farmers. Payment triggers include lost pay due to imposed quarantines, virus-related labour shortages, and other similar causes.