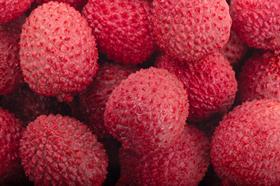 With foreign buyers unable to enter the country due to Covid-19 restrictions, Vietnam's lychee growers have lost access to key customers.
According to a report from AFP, wholesale markets in Northern Vietnam are open for business, ready to make the most of the short six-week lychee season. However, this year business is down.
Nguyen Van Thanh, is a lychee grower from Bac Giang province, just a few hours' drive from the Chinese border. He told AFP travel restrictions have forced a focus on domestic customers.
'Because of the pandemic, we aren't seeing Chinese traders and we mostly sell to domestic traders, so the price is very low,' Nguyen told AFP, adding that half his haul ends up overseas in a normal year.
Although Vietnam has avoided the worst of the Covid-19 pandemic and has, for the most part, returned to normal trading, the country's borders are still not open to people, restricting the access of potential customers.
State media reported in the first week of June that several hundred visitors from China and Japan had been quarantined for 14 days after entering Vietnam.
The AFP report said authorities had promised to promote lychees domestically, but these efforts have not prevented prices dropping to half of what they were in 2019.
'We have worked hard the whole year ... but this is not enough to live on,' lychee grower Do Van Toan told AFP. He estimated he would earn not more than US$4,000 this season.
Lychees are one of Vietnam's more profitable fruits, it usually exports around 100,000 tonnes of fresh lychees worth more than US$30m each season most of which are exported to China.