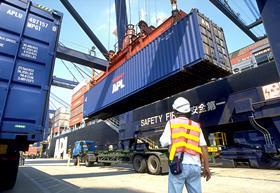 Seafreight in and out of Southern China has slowed after some staff at Yantian International Container Terminal (YICT) tested positive to Covid-19.
According to a report from Reuters, the port has undergone stringent disinfection measures since 21 May when the outbreak was discovered.
As a result, congestion at once of China's business ports has significantly increased and surrounding ports are feeling the effects.
In an advisory posted on 4 June Maersk said due to further measures being implemented, increased congestion and vessel delays upwards of 14 days were expected in Yantian port.
"The situation continues to deteriorate as more positive Covid-19 cases have been confirmed in Shenzhen where Yantian port and Shekou port are located and in Guangzhou where Nansha port is located," the advisory said.
Maersk said operations in the eastern area of YICT continued to experience productivity levels which is about 30 per cent below normal, meanwhile, all operations in the western area of YICT had been suspended until further notice.