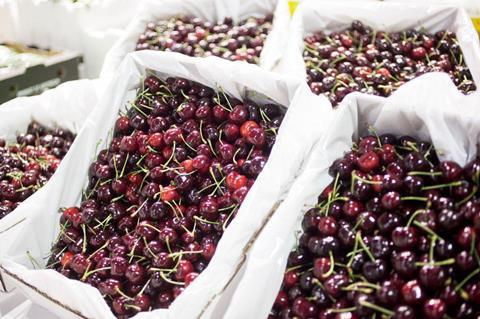 China's fresh fruit imports are facing disruption as customs authorities at ports across the country begin testing incoming shipments for Covid-19.
The new measures come in the wake of the closure of Beijing's Xinfadi Market following a coronavirus (Covid-19) outbreak last week, which has been linked by market authorities to the chopping board used by a seller of imported salmon.
China's customs authorities have not issued any official notice or formal instruction to test imported fresh fruit for Covid-19, Asiafruit understands. Neither is there any evidence to suggest Covid-19 can be transmitted through fresh produce or other foods, but new inspection measures have been undertaken by customs officers at Shanghai, Tianjin and other ports across the country.
Customs authorities in Shanghai have reportedly adopted some of the most stringent testing measures.
"Customs has begun testing for Covid-19 on the packaging and surface of the fruits entering the port,' an in-market source at Shanghai Huizhan Fruit & Vegetable Wholesale market told Asiafruit. 'Ports in other regions have similar measures but they're not as strict as Shanghai.
'The testing rate is not 100 per cent but it is quite high, especially for fruit arriving from the US and other countries with high Covid case numbers.
"And Australian imports are also being tested at quite a high rate, despite the low number of cases in the country."
Products held for testing take an extra two days to clear, the Huizhan market source said. This is a major concern for arrivals of time-sensitive cherries from the US and other key Northern Hemisphere supply origins, which are getting into full swing now.
"Other products can endure the long clearance time, but only in terms of the fruit quality holding up,' said the market source. 'The longer the product takes to arrive in the market, the more chance the price will be impacted."
At Jiaxing Market, a major wholesale hub for domestically-grown and imported fresh fruit 100km west of Shanghai, a local market source told Asiafruit that products had also been tested for Covid-19.
"It's not clear whether a testing regime has been implemented at Chinese ports or not, but two groups of local officers from the Disease Control and Prevention Centre and the local government have already visited Jiaxing Market to conduct random testing of fruits," said the market source. "The fruits included citrus from the US (Sunkist), South Africa and Egypt and US apples."
According to Chinese media reports, customs authorities at many ports across the country have increased their inspection measures on imported food following the Xindafi Market outbreak. While their initial focus was on testing seafood products, it has since been extended to meat and fresh fruit.
The future of China's wholesale markets will be in focus at Fruitnet Live: China, Fruitnet's global digital conference on China's fresh produce market after Covid-19.
Fruitnet Live: China live-streams on 8 July from 2pm Shanghai time. Click here to register for free.