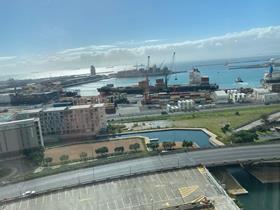 Port systems in South Africa are back online following a cyber-attack on 22 July, however, the resulting the disruption has yet to clear.
Transnet, the South African road and port authority, was targeted by the attack, which hampered computer systems vital for the movement of containers through South African ports.
"South Africa's ports are mostly back to normal," the South African government said in a statement. "This is after last week's cyberattack on state-owned Transnet's IT system led to chaos and disruptions at the country's key container terminal.
'The return to operations is good news for the economy, as the Transnet ports and rail system are the backbone of the economy."
According to local news reports, Transnet had declared force majeure following the attack. On 29 July South Africa's The Department of Public Enterprises said although operations had mostly been restored, 'the force majeure is currently in place and under review with the intention to lift it in the coming days'.
'The preliminary assessment of the cyberattack indicates that Transnet and its customer data have not been compromised," the Department said.
'Cyberattacks have been on the increase in the country and globally. Investigations are under way into the events and due process will take place.'
According to Fin24, the attack had caused significant disruption to the fresh produce supply chain with perishable food stuck in containers and on freight trucks, causing massive frustration among both importers and exporters.
Gavin Kelly, chief executive of the Road Freight Association told Fin24 that its members could not get cargo in and out of the ports, whileTerry Gale, chairperson of the Exporters Club of the Western Cape, said the situation was a 'total nightmare".
The cyber-attack is the second recent blow to South Africa's fresh produce export industry. It has also had to navigate recent unrest in two of South Africa's provinces, which brought operations in the port of Durban to a standstill.