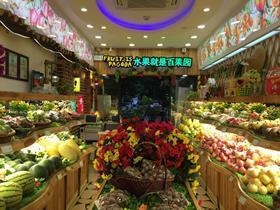 China's leading local on-demand retail and delivery platform, Dada Group, has announced more than 500 Pagoda stores have partnered its on-demand delivery platform of Dada Now, to provide omni-channel order delivery.
Pagoda, a well-known fresh fruit retail chain across China, will use Dada Now's secure and on-demand service to deliver fresh fruit and other products to consumers across Chinawithin one hour.
The number of Dada-Pagoda partnered stores is expected to reach 2,000 by the end of the year, according to Global Newswire.
Dada Now's dedicated delivery service is designed to serve chain merchants across China by providing them with customised service and products, meeting their tailored needs for omni-channel delivery.
To date, Dada Now has served McDonald's, KFC, Kungfu, Pagoda, Champion Pizza, Quanyuantang, and other notable chain retailers, covering more than 2,500 cities and counties across China
Peng Sun, general manager of Pagoda's e-commerce business, said Dada Now had played a key role in the logistics infrastructure of Pagoda's online and offline integration strategy.
"Through our partnership with Dada Now, we have been able to offer consumers fresh fruit quickly and conveniently," said Sun.
"With more than 2,000 Pagoda stores expected to partner with Dada Now platform by year end, we look forward to expanding our business and bringing our products to even more customers across China.'
Changing consumer habits, including an increased openness to buying fruit online, has accelerated the process of online and offline integration.
Chinese customers can now place orders for fresh fruit on JDDJ, the on-demand retail platform of Dada Group, and Dada Now riders carrying out delivery.
Pagoda accepts orders from multiple sources, including its own app, WeChat mini programme, the aforementioned JDDJ platform, and various third-party take-out platforms, creating unique coordination needs.
Dada Now is able to systemically meet Pagoda's differentiated and immediate distribution challenges with its customised omni-channel delivery solutions, ensuring fast and efficient performance while effectively reducing costs.
According to Dada Now's data, from 1 October to 25 October 2020, the average order fulfilment time for Pagoda stores delivered by Dada Now was approximately 20 minutes.
Global Newswire reports Dada's customised delivery system is made possible by its utilisation of logistics stations that cover more than 2,500 cities and counties across the country.
These stations provide all-round operational support functions such as data analysis, customer service designation, and store exploration by special personnel from any given store.
Dada Now's dedicated delivery service can also customise distribution service specifications based on particular retailer and store requirements.