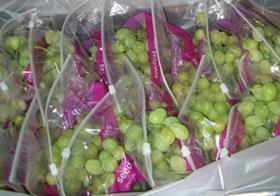 Indian table grape exports, affected by rain and Covid-19, are forecast to decline for a second season in a row, according to a USDA report.
The report predicted table grape exports would drop to around 150,000 tonnes for the 2020/21 marketing year (12 months to 30 May 2021), a 19 per cent decline year-on-year.
"This is attributed to lower production, reduced product quality resulting from unseasonal rainfall, depleting export demand and shipping and supply chain constraints faced during the Covid-19 lockdown," the report said.
This will be the second year in a row India's table grape exports have reduced, in 2019/20 it exported 184,592 tonnes while in 2018/19 it exported 250,351 tonnes.
Europe is expected to remain the top export market with over 50 per cent of table grapes sent to the EU and UK in 2019/20, however, India is facing strong competition from other Southern Hemisphere suppliers.
"Industry sources indicate South Africa's increased production and free trade agreement with the EU will continue to give it an edge over Indian table grape exports," the report said.
Russia is another significant market and accounted for 12 per cent of India's table grape exports in 2019/20 as is Bangladesh, India's second largest individual market. In2019/20 Bangladesh imported32,289 tonnes of table grapes from India.