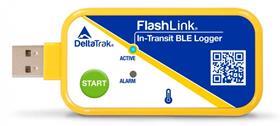 Transport monitoring specialist DeltaTrak is set to launch two new BLE (Bluetooth Low Energy) loggers.
The FlashLink In-Transit BLE Logger and the FlashLink In-Transit BLE TH (Temperature & Humidity) Logger will be unveiled at this week's Fruit Logistica trade show in Berlin.
The new loggers employ wireless technology and smart phone functionality to provide trip data without the need to retrieve the device. Data is accessed from a mobile device using a dedicated app, which functions from a distance of up to 65ft from the container. A USB connection also gives users the ability to download a PDF report.
Both loggers offer temperature and location monitoring. As its name suggests, the BLE TH model also monitors humidity.
"These loggers are perfect devices for produce and floral grower/shippers, giving the ability to observe shipment conditions during transit, and make appropriate post-delivery decisions," DeltaTrak said in a release. "The ability to see vehicle location at all times, makes this logger ideal for deliveries."
Bluetooth Low Energy technology does not require device pairing and uses minimal power, as small bits of data are sent at specific intervals. Cloud-based data storage combined with customisable settings, such as alarm limits and logging intervals, have been integrated to make the loggers as user friendly as possible.
"This is a turnkey solution", said Frederick Wu, president and CEO of DeltaTrak. "There's no need for infrastructure. No repeater, receivers or external power supply are needed. It's completely wireless."