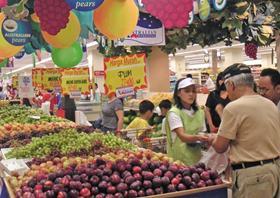 Statistics Indonesia (BPS) has revealed fruit is one of only three import categories to increase in 2019 (January to November), a rise driven by household spending.
According to a report from The Jakarta Post, the value of Indonesia's fruit imports totalled US$1.24bn from January to November in 2019, up 9.61 per cent (US$1.13bn) from in the same period in 2018.
BPS chairman, Suhariyanto,said a rise in household spending was behind the increase, with China being one of the main beneficiaries.
"Household spending on several goods has contributed to rising imports of apples and oranges from China," Suhariyantotold The Jakarta Post.
There had been a particular spike in Indonesian fruit imports in November, with imports from China more than doubling from US$134.42m to US$64.17m.
It is this kind of growth that has China positioned as the top exporter of fruit to Indonesia, followed by Japan and Thailand.
David Sumual, chief economist of Bank Central Asia, said the recent surge could also be attributed due to a stronger rupiah against the US dollar.
"We always see a rise of household spending near the end of year, but this year's imports were higher than usual… perhaps because of the stronger rupiah, which prompted importers to boost their supplies," Sumual told The Jakarta Post.