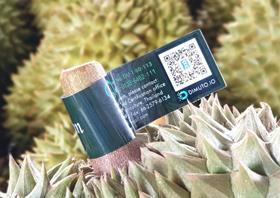 Singapore-based trade technology startup, DiMuto, will bring its track and trace blockchain technology to the US for the first time after partnering with Fancher Creek Packing.
Fancher Creek's packing facility is located in the San Joaquin Valley and the company works with growers, packers and shippers to provide citrus produce to the rest of the US, as well as overseas markets, such as Japan and Korea.
The citrus packer will use the traceability solution to tag citrus fruits, including oranges, lemons and grapefruits as they are shipped from the US to various parts of Asia.
Additionally, DiMuto will aid Fancher Creek in expanding its distribution channels by penetrating South-East Asian markets in DiMuto's trade network, including Indonesia, Malaysia and Singapore.
Gary Loh, founder and chairman of DiMuto, said the company was thrilled to be expanding beyond Asia.
"We are tremendously excited to be working with Fancher Creek to break into the US market and establish a presence in California's Central Valley," Loh said.
"The adoption of our technology by more players across the global produce industry underscores the scalability of our all-in-one trade management platform."
DiMuto's technology integrates with existing systems to create traceability and accountability for each fruit, from farms, factories, cold chain to distribution channels and end consumers.
Every single fruit is tagged with a QR label, photographed and tracked at each stage of the supply chain to provide end-to-end, 24/7 visibility.
Data is encrypted and loaded onto the distributed digital ledger, enabling verified documents and data to be shared on a single platform, reducing trade disputes over quality and strengthening trust amongst all parties.
"It is platform-agnostic and interoperable among the different blockchain systems currently used by the big international retailers," Loh said.
"We envisage a faster rate of market adoption for our trade solution as retailers are increasingly requesting for suppliers to go on the blockchain to complete end-to-end traceability."