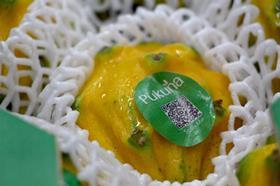 Trade technology solutions platform, DiMuto, has announced a new partnership with Ecuadorian producer Pukuna Farms. The partnership will see exports of exotic produce grown in Ecuador and Peru traced across the entire supply chain.
The deal with Pukuna Farms follows closely after a funding round for DiMuto's latest investor, Latin Leap, a Venture Capital Studio focusing on opening up opportunities in Latin America for Southeast Asian tech-scale ups.
It also follows DiMuto's recent technology partnership with Corporacion Industrial Uruapan (CIU), a Mexican company dedicated to designing and manufacturing post-harvest processing machinery.
Pukuna Farms' customers are mostly wholesalers and distributors in Singapore, Hong Kong, the UK and US.
In a statement, DiMuto said it would deploy its '4T Suite Solutions', which will see every single pitahaya (yellow dragon fruit) produced by Pukuna Farms tagged for produce traceability.
Individual products and cartons are tagged with DiMuto QR codes to assign each one a digital identity. These products and cartons are then digitalized through DiMuto's proprietary Digital Asset Creation devices (DACky).
When consumers scan DiMuto QR codes tagged to individual food products, they are able to see the origin of the product, obtain information about the farm and growing practices, as well as learn new recipes and participate in exciting lucky draws.
Consumers are also encouraged to leave feedback on their produce, giving brand owners important information about the quality of the product and the consumer experience.
The partnership will also see Pukuna Farms utilise DiMuto's Sales & Marketing Retention & Awareness Tool (Smart) Marketing services to strengthen its brand presence within Asia and engage end consumers with its traceability story while leveraging DiMuto's Global Trade Network in Asia and beyond.
"We are pleased to work with DiMuto to grow the Pukuna brand in Asia and Southeast Asia. With DiMuto's traceability solution, we are able to create trust with our export customers and also communicate our story to end consumers," explained Santiago Báez, managing director of Pukuna Farms.
Gary Loh, DiMuto's founder and chief executive, added, "We are tremendously excited to collaborate with Pukuna Farms. With the visibility provided as the fruits move through the supply chain, our 360 trade solutions can help Pukuna solve challenges including trade disputes and lack of consumer engagement that typically plague produce exporters."