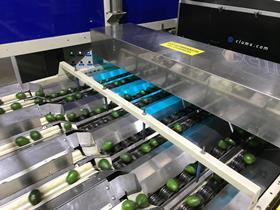 Tech-based trade solutions platform, DiMuto, has announced a new partnership with leading global post-harvest automation manufacturer, Corporacion Industrial Uruapan (CIU).
It's a move the Singapore-based DiMuto hopes will boost its Digital Asset Creation capabilities, known as DACky, for global agri-food trade.
DACky is able to uniquely tag, photograph and track every fruit and every carton at the pack house, creating greater traceability in the fresh produce industry.
Mexican company CIU has over 30 years industry experience and a global presence spanning 800 projects in over 12 countries including the US, Peru, Chile, Brazil and Israel.
CIU develops automated and semi-automated packaging lines capable of selecting, through an artificial vision system, a wide variety of fruits and vegetables by weight, colour, size, defect, and shape.
Chief executive and owner of CIU, Enrique Martinez Ayala, said the partnership with DiMuto would give them the opportunity to scale their business in traceability and help them reach the Asian marketplace.
A key goal of the partnership will be to shorten the onboarding process towards the digitalisation journey for agri-food customers around the world.
In a release, DiMuto said the new improvements will strengthen its 4T Suite Solution - a four part trade technology solution combining blockchain, AI and IoT aiming to create traceability for every single fruit as it moves through the supply chain by capturing important data at key supply chain stages.
Founder and chief executive of DiMuto, Gary Loh, said working with CIU will help accelerate the company's pace of innovation and help bring visibility to global agri-food trade.
Enterprise Singapore supported DiMuto's internationalisation journey in Latin America by providing market insights, sourcing suitable in-market partners, patent filing, proof of concept and assisting with business development and branding efforts.
Clarence Hoe, global markets director of Enterprise Singapore, congratulated DiMuto on the partnership with CIU.
"We are excited to see growing collaborations between Singaporean and Mexican companies which lead to the development of more effective solutions to meet the growing digitalisation demand in Mexico," said Hoe.
The collaboration follows DiMuto's latest investment from Latin Leap, a venture capital studio focusing on opening up opportunities in Latin America for Southeast Asian tech-scale ups, and its partnership with international pineapple organisation, a global trade organisation for pineapple growers.