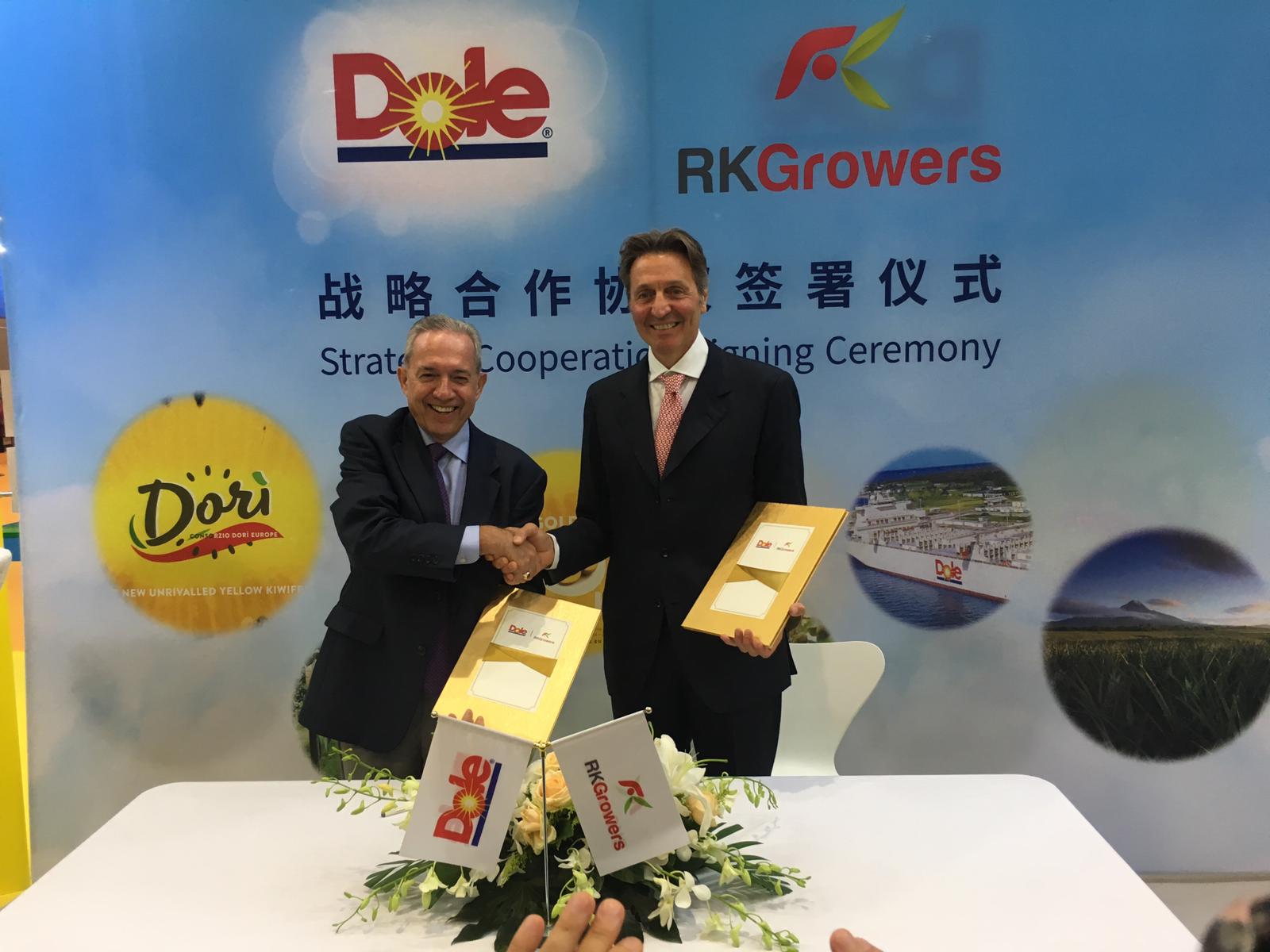 Singapore-headquartered grower-marketer Dole Asia and Italian fruit industry heavyweight RK Growers held a strategic cooperation signing ceremony at Asia Fruit Logistica (AFL) yesterday (4 September), establishing Dole as RK Growers' strategic partner in China, and strengthening the bond between the two sides in the Chinese market.
Dole has been the exclusive agent of RK Growers in China since 2018, and together they have worked relentlessly to promote and market the new Italian Dori golden kiwifruit, the companies explained at the Hong Kong event.
"A strong sales network and strict control over all aspects of the supply chain are important reasons why RK Growers chose Dole as a strategic partner," Paolo Carissimo, president and managing director of RK Growers, said in a speech at the signing ceremony.
In China, Dole has modern processing and distribution centres in Shanghai, Beijing, Dongguan, Shenyang, Harbin, Xiamen, Xi'an, Qingdao, Chongqing, Chengdu, Wuhan, and Kunming; as well as a diversified sales network in ten national supermarkets, 25 local supermarkets, 15 boutique fruit chains, and more than 1,600 independent fruit outlets, covering 140 urban areas.
Dole also actively develops the online multi-channel distribution network and cooperates with many well known O2O chains.
"Dole also hopes to bring more Italian fruit to the Chinese consumers through its cooperation with RK Growers," added Richard Toman, president of Dole Asia.
"Both Dole and RK Growers is looking forward to the sales of Dori in the upcoming season in China."
Bred by the University of Udine and the University of Bologna in Italy, Dori took over 15 years to develop, and its season runs from October to February.
"Last season, Dole and RK Growers proactively collaborated to improve production and packaging standards, and jointly developed the Chinese market, achieving excellent results," Toman said.
Witnessed by Terry Chan, general manager of Dole China, as well as a number of senior Dole and RK Growers senior executives, Toman and Carissimo signed their strategic agreement at a grand ceremony on the opening day of AFL in Hong Kong.
Dole has actively participated in AFL since the first exhibition, and this year brought together high-quality products from various Asian markets to its stand at the show.
"In addition to the competitive products such as banana, pineapple, dried fruit and canned fruits from the Philippines, there are also Fuji apple, soft-seed sweet pomegranate and non-GMO corn, Fengshui pear from China; honey pomelo from Thailand and dragon fruit from Vietnam," the company said.