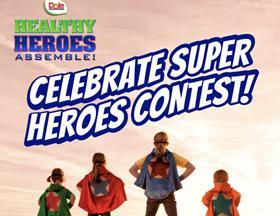 As part of its nine-month 'Dole Healthy Heroes, Assemble!' empowered-living initiative inspired by the Marvel Cinematic Universe, Dole has kicked-off a social media contest and the first of four six-week recruitment campaigns designed to acknowledge 'everyday heroes' in all walks of life.
The Fresh produce group's 'Celebrate Super Heroes Contest' launched on 28 March, and will award US$10,000 in scholarships to empower everyday heroes to continue their positive impacts in their communities.
In honour of the 6 May theatrical release of Marvel Studios' Doctor Strange in the Multiverse of Madness, Dole has devoted the first recruitment campaign to Healthy Heroes of the Mind to honour those everyday champions committed to providing access to education, the joy of learning and overall mental health.
Each campaign features the release of original Dole recipes, collectible Dole banana stickers and Dole pineapple tags, free digital downloads and social media content inspired by a new set of Marvel Super Heroes.
In all, 20 original Marvel character-inspired entrées, side dishes, salads, desserts and smoothies developed by Melanie Marcus, Dole's nutrition and health communications manager, will be released in multiple waves throughout the campaign.
Five new Dole Banana sticker designs featuring Doctor Strange, Scarlet Witch, Vision, Wasp and Rocket Raccoon, as well as a new Dole Pineapple tag with Doctor Strange, Scarlet Witch and Shuri, also are being released in supermarkets throughout North America to join the millions of other Marvel-inspired stickers and tags introduced earlier in the month.
A total of 26 unique stickers and tags will be released throughout the life of the programme, and Dole has created a free, downloadable banana sticker peel and play hero book to help fans collect every sticker design.
"We are kicking-off our celebration of everyday heroes with a focus on those champions committed to advancing the power and potential of the mind, the value of lifelong learning and the importance of mental wellness to make the world a holistically healthier place," said William Goldfield, Dole's director of corporate communications.
"More than just recognising these 'heroes of the mind', we encourage them to enter their hero's story in our Dole Celebrate Super Heroes Contest for a chance to receive up to US$3,000 in scholarships to continue their work to make a difference.

"We all need to believe in heroes – both super heroes tasked with saving the universe and everyday champions with a passion for bettering their communities one healthy mind, individual or family at a time."
The global fresh produce provider is now recruiting heroes to enter Dole's Celebrate Super Heroes Contest for an opportunity to win a US$1,000 scholarship that can be applied to the winner's community or nonprofit project of choice.
To become eligible, participants must post a picture or video of their healthy superpower on Instagram, Facebook or Twitter; share how that power helps others or their family or community; and tag Dole and use the campaign hashtags #CelebrateSuperHeroes and #Contest.

Two first prize winners will be selected by a panel of Dole judges to receive US$1,000 at the conclusion of each mind, soul, heart and home hero recruitment campaign.
One grand prize winner will then be randomly selected from among the eight first prize winners in September to receive an additional US$2,000 for their personal or community project.