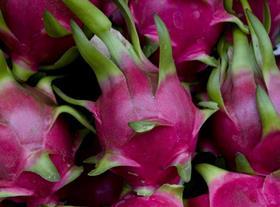 Dragon fruit production in the Philippines has been on the rise and a new industry roadmap has predicted the trend to accelerate.
According to a report from the Philippine News Agaency, the Association of Dragon Fruit Growers in the Philippines has outlined the development the the country's dragon fruit industry over the next five years.
The Association's representative Edita Aguinaldo-Dacuycuysaid in support of the Philippines' Department of Agriculture's (DA) Plant, Plant, Plant programme, the industry is hoping to expand to 10,000ha of production in five years' time to be able to supply the global market.
"Following our second stakeholders virtual meeting held last 1 June, we are happy to inform that the Dragon Fruit Industry Road Map 2021-2025 has started to take off," said Edita Aguinaldo-Dacuycuy.
"It is with great hope that our strong collaboration with the DA, as well as the Department of Environment and Natural Resources, Department of Science and Technology, and other government line agencies, we will be able to make it happen to benefit all growers nationwide."
The fruit is attracting more interest across the country given the attractive prices growers are getting for their produce. The province of Ilocos Norteis currently the country's leading production region with 500ha of dragon fruit planted.
The province's government and other organisations including research centres have stepped up efforts to support the emerging dragon fruit industry supporting more planting, developing the industry's marketing efforts and strengthen linkages between farmers, local government, non-government agencies, organizations and traders.