A decade in China is just the beginning for Driscoll's, as the berry giant continues to grow its China business
World leading berry brand Driscoll's celebrated its ten-year anniversary in the China market with a special banquet in Kunming Yunnan on 6th May. More than 300 guests including Yunnan government bodies, growers, clients and Driscoll's executives attended the lavish event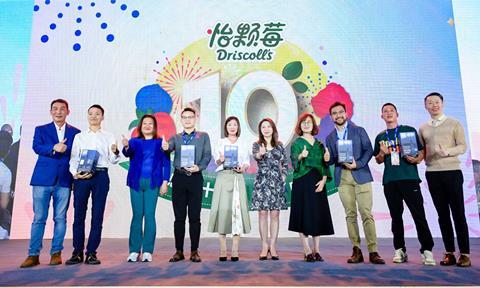 Since its establishment in California in 1872, Driscoll's has dedicated itself to researching and breeding superior varieties of strawberries, blueberries, raspberries and blackberries that are natural and delicious. The group currently has 22 production bases across six continents, and its quality products are sold in 66 countries and regions.
In 2013, Driscoll's established its first China planting base in the climate-ideal Honghe prefecture in Yunnan, becoming the first foreign company to operate a commercial berry planting business in China. In 2016, Driscoll's-branded fresh blueberries produced in Yunnan launched in the China market. By the end of 2022, Driscoll's had over 30,000mu (2,000ha) of berry planting area in Yunnan, a total annual production volume of 15,000 tonnes, and a total annual sales value of RMB1.7bn (US$240m).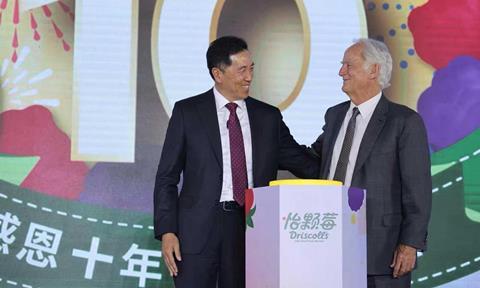 During his welcome speech at the banquet, Miles Reiter, Driscoll's chairman and CEO, expressed his enthusiasm for the China market, and promised to continue investing in this market.
Jae Chun, Driscoll's VP and general manager of China echoed his commitment.
"The development Driscoll's had in the past ten years could not have been accomplished without the support and collaboration from the Yunnan government, the growers and the clients," Chun said. "I believe the last decade is just the beginning. With our concerted efforts, we will bring ever more fresh berries that are high-quality and healthy to Chinese consumers."
According to Reiter, Driscoll's plans to reach a sales volume of 35,000 tonnes in China this year, which will represent a growth of 25~30 per cent over last year.
"We expect that we will have strong market demand (in China), and can sustain a similar growth for five years. Much of that is obviously dependent on the success of the growers, which is dependent on the demand in the market. But that is our plan, and we believe there's a very significant future beyond the five year period," said Reiter.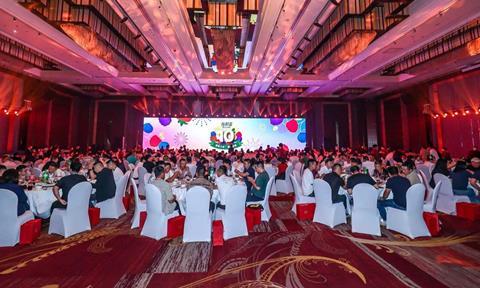 Supporting rural communities
The berry production business of Driscoll's in Yunnan has created thousands of job opportunities for the local growers, improving their income and the local agricultural economy. Driscoll's is also involved in multiple public welfare projects in Yunnan, including a volunteer teaching project developed in partnership with China's leading fruit retailer Pagoda and the China Foundation for Rural Development.
"As a business grows, it has a social responsibility to give back. It is an important aspect in Driscoll's' development," said Chun. "We will continue to work hand-in-hand with Yunnan government bodies, to develop a modern berry growing business in Yunnan, and contribute to the prosperity of the local communities and its agri-business."