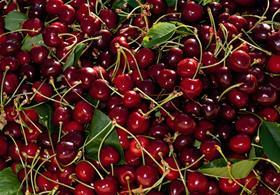 California's cherry growers are holding their collective breath as the 2020 season approaches.
Last year, a stellar-quality crop that looked to be the biggest in state history at well over 10m cartons (8.2kg) was suddenly gutted by a series of mid-May rain and hailstorms. When the clouds finally parted, the fruit that remained on the trees was of suspect quality and limited shelf-life, making for another heart-breaking season for the beleaguered industry.
Growing tree fruit of any kind in the spring across the San Joaquin Valley has always been a gamble. Yet for the first several years of the 2010 decade, California cherry growers managed to do fairly well, shipping an average of 7.7m cartons per season between 2010 and 2013.
For the remainder of the decade, however, it was an entirely different matter. With the exception of the record 9.6m carton-season in 2017, the rest of the decade averaged just 4.7m cartons. California's volatile weather was again the culprit, as a combination of drought and deluges took a regular toll on packouts.
So far in 2020, the weather has been cooperating, setting up what appears to be a moderate-sized crop of around 6m-7m cartons. Relatively cold temperatures prevailing in November and December across California's Central Valley evidently provided enough chilling hours to put cherry orchards into dormancy.
Although January and February were extraordinarily dry months, enough rain did fall over the course of winter to provide sufficient soil moisture. However, the relatively warm mid-winter conditions have the 2020 California cherry season heading for an early start.
"(The industry) will probably begin picking fruit sometime during week 17 (19 April)," said Mark Calder of Primavera Marketing, one of the state's largest grower-shippers of cherries.
"We'll only be scratching the surface, however. Fruit set this year doesn't appear to be all that heavy, so I don't expect the deal to last beyond the first week of June. That will be fine, since we need to get out of the way of those big guys up north."
Calder is referring to the Northwest cherry season, which looks to be running early as well this year.
"Most of California's fruit will be sold in May," predicted Dave Martin of Stemilt Growers in late March. "The crop this year looks to be a moderate one at around 7m cartons or so. We could see a little more, however, as the late Bings are still setting."
Even if good weather persists through the spring, a cloud is hanging over the California industry in the form of coronavirus (Covid-19). Since its outbreak, the pandemic has all but shut down most of the key Asian markets that the industry typically counts on for premium sales.
"The biggest concern is whether we'll have markets to sell our fruit to and enough planes to fly them there," said Martin. "The virus epidemic has things changing on us every week."