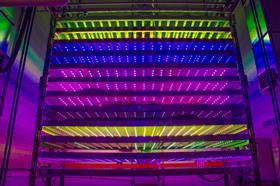 Post-organic, high-tech farmer, Eden Towers, is gearing up to expand its farming system across Australia, Singapore and Indoensia.
Using cloud and IoT technology to create an indoor ecosystem where plants thrive year-round without soil, in any climate, Eden Towers said its system produces up to 15 times the amount a greenhouse or open field can, while using 98 per cent less water.
The company also boasts zero food miles from local production as farms can be built anywhere, with all operations powered by renewable energy.
Eden Towers is raising capital to roll-out a further five vertical farming plantsacross Australia and the Asia Pacific, with Singapore and Jakarta underway and Sydney and Melbourne to follow. This is in addition to its first site in Perth, Western Australia.
Founded by husband-and-wife team Christian Prokscha and Julia Prichodko, Eden Towers was established to address the looming crisis of global food security and food quality, in an environmentally sustainable manner.
"Rapid climate change and explosive global population growth are increasing both the demand for food and its prices," said Christian Prokscha, co-founder of Eden Towers.
"Farms are being pushed further from urban centres, adding more carbon miles between the farm and your table, and the hunt for higher yields means adding more toxins and genetic modification.
"Eden Towers produces more with less. Our vision is to promote a sustainable future through superior agriculture technology, sustainable energy and water systems, and smart use of land and location," he added.
The company's Growth Towers are fully automated and modular, using a system that can expand production and change outputs efficiently.
The patented tower automation platform, Prokscha explained, offers an ecosystem which requires minimal human interference, with an IoT managed system that utilises a cloud- based app to provide all scheduling, monitoring and plant nurture – including seeding, germination, growing, harvesting.
Biosecurity is managed through physical barriers and airlock, so pests are unable to penetrate.
Eden Towers is partnered with Intelligent Growth Solutions (IGS), an AgriTech innovator established in 2013. IGS is based at the James Hutton Institute in Scotland, a world leading scientific organisation which specialises in land, crop and water management, with campuses in Aberdeen, Laurencekirk and Dundee.
"Our partnership with IGS gives us unfettered access to world leading crop and food science technology. While our highly experience and senior team has the expertise, in-country experience, and market access to execute our plans to expand across Australasia and the Asia Pacific," said Julia Prichodko, co-founder of Eden Towers.
Eden Towers has chosen to pursue a pre-series A funding round through equity crowd funding platform Birchal, aiming to embrace ordinary investors who share its commitment to sustainable, organic, and locally produced food.
"Eden Towers employs cutting edge technology to grow vegetables that can help feed the world, protect the environment and that also taste good and are good for you.
"This business is about building a sustainable future for agriculture. We want to give as many people as possible who share these values the opportunity to join our movement from this early stage," said Prokscha.