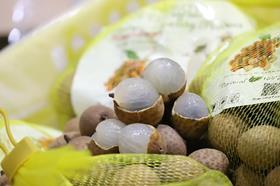 The Vietnam Fruit and Vegetable Association has said the industry is unlikely to meet an export target of US$4bn-5bn set for 2020.
According to a Vietnam News report, exports have declined in the first two months of the year because of the disruption caused by coronavirus (Covid-19), a trend that is expected to continue.
Despite the shortfall in international markets, the Association said there were opportunities to be found in the domestic market.
Đặng Phúc Nguyên, general secretary of the Vietnam Fruit and Vegetable Association, said the value of the country's fruit and vegetable exports in the first two months of 2020 was US$513m, an 11. 9 per cent decline compared to the same period in 2019.
Nguyên told Vietnam News the total value of exports for 2020 was predicted to reach just over US$3bn, a US$3.74bn decrease from 2019.
"Fruit and vegetable exports have faced difficulties this year due to the Covid-19 epidemic. Exports to China, the biggest buyer, might decrease significantly from last year," Nguyên told Vietnam News.
In recent years Vietnam has gained the ability to export certain fruits and vegetables to a number of new markets including the US, the EU, Australia and New Zealand. However, Nguyên said more work was required to be able to increase exports to those markets.
"Storage and packaging technologies must be improved to enable our products to last for over 30 days so that they can be shipped to Europe and the US by sea," Nguyên said.
"Currently our exports are completely done by air, and so prices are high and export volumes are low."
Although the outlook for fresh produce exports is not promising for 2020, Nguyên said suppliers should pay close attention to the domestic market.
"With their increasing incomes, Vietnamese are consuming more products that are good for health, and so demand for fruits and vegetables has increased significantly in recent years,' Nguyên said.
"Demand for fruits and vegetables in the domestic market is high, but it does not mean people will eat whatever you grow," he added
"The producers must ensure product quality so that their products have a steady market."