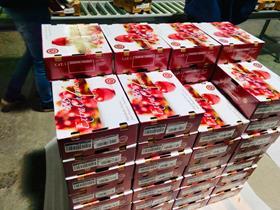 Extraberries has fired the starting gun on the 2020/21 Argentine cherry campaign. On Friday the company dispatched the first consignment of Royal Down cherries to Ezeiza airport in Buenos Aires, from where it will be flown to China and is due to arrive in week 46.
This is the first time that airflown cherries will be flown to China without the need for cold treatment at origin following China's recognition of Patagonia as being free from fruit fly.
Extraberries harvests early and mid-late season cherries from orchards in the Valle Medio region of Argentina's Río Negro province, while its late production is located in the Colonia Sarmiento province of Chubut, one of the southernmost orchards in the country.
Both locations have state-of-the-art infrastructure and technology that allows them to comply with the rigorous quality standards and sanitary protocols required by China.
The company's president, Adolfo Storni, said carrying out the shipment during the Covid-19 pandemic represented a true milestone, which would not have been possible without the work of the Extraberries team, the national authorities, logistics company Transportes Javier and Aerolineas Argentinas.
"Chinese demand for cherries represents an enormous opportunity for local production, to generate new investments that increase plantations and process technologies," Storni said.
"If Argentina achieves the same as Chile has achieved in just 15 years, cherries could become one of its biggest fruit exports, which would have a huge impact on employment, local development and the generation of foreign exchange."
Extraberries was the leading exporter of Argentine cherries in 2019. In the same year, it became the first Argentine company to be authorised to export cherries to China with cold treatment at origin, the fruit arriving just in time for the Chinese New Year festivities.
The company has been growing and marketing cherries and other fruit including apples and pears since 2008. Located 18km from the town of Chimpay in the Valle Medio, it has around 1,200ha of production.