Valenzuela says FTA will not only create new opportunities for Chilean fruit, but also boost innovation within the sector
The president of Chilean fruit producer union Fedefruta, Jorge Valenzuela, has joined the growing chorus of voices urging the country's government to approve the Comprehensive and Progressive Treaty of Trans-Pacific Partnership.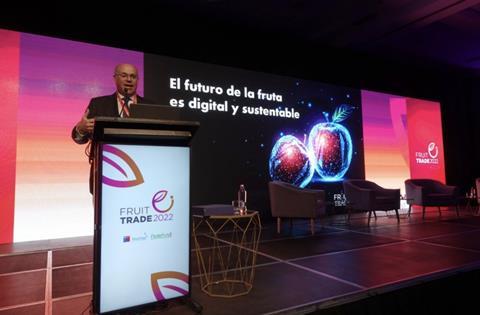 Speaking to more than 1,000 delegates at this week's Fruitttrade2022 conference in Santiago, Valenzuela said: "As a country we need this treaty. Peru has already approved it and they arrive with a zero tariff.
"We have better quality, but they don't buy the fruit from us, because we have to pay taxes, we are more expensive. It is a market of 500m inhabitants, there are 3,000 agricultural products that would enter with zero tariff, so we ask the government that this not remain dormant for one or two years in a discussion that is more ideological than practical".
Chile signed the free trade agreement in 2018 along with 10 other CPTPP members but remains one of just two of the signatories that has yet to bring it into force.
Valenzuela added that the TPP-11 represented more than an opportunity to sell more Chilean fruit.
"It is not only what we can deliver to a market of 500m people, but what we can receive from 500m inhabitants for our country: technologies, advances, digitization, transformation of processes that serve to improve the performance of many sectors productive, and make them more innovative and in line with reality," he said.
During the event, which was also attended by Agriculture Minister Esteban Valenzuela and ProChile's Paulina Valderrama, Valenzuela spoke of the crisis generated by rising costs and logistical disruption, which he said has resulted in a serious lack of financing ahead of the 2022/23 export campaign.
Nevertheless, Valenzuela said he was optimistic about the coming season. "Rainfall levels not seen in 11 years have cleansed the soil and reinvigorated fruit trees, resulting in a greener leaf and a greater quantity of fruit," he said.
"If these conditions continue, we will have a very good production from the point of view of quantity and quality."