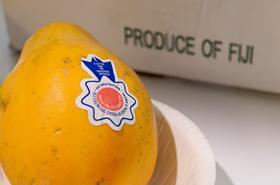 Fijian papaya grower-exporter Produce Specialties has broken into a series of new markets in the Asia-Pacific over the last several months after exhibiting for the first time at the Asia Fruit Logistica trade fair in September.
Produce Specialties accounts for about 60 per cent of Fiji's papaya production, and exports the premium Fiji Red Papaya variety.
The company's exhibition at the Hong Kong trade show in September was prompted by the opening of a new bi-weekly Air Pacific route from Nadi to Hong Kong, which opened up fresh export opportunities for Fiji.
"As a result of Asia Fruit Logistica, we have appointed a Hong Kong agent-importer, through whom we have been making regular weekly shipments for the past eight weeks, and they advise we are about to break into one of the leading supermarket chains," the company's joint managing director Graeme Thorpe told Fruitnet.com.
The company has this week also received a 500kg order from Holland, its second from the country. The first shipment of the Fijian fruit received glowing praise from its European buyers, he said, although price was a problem compared to papayas from South America.
"`We` are hopeful, despite the high landed price, that this will develop further, into regular, increased weekly orders," he said.
Produce Specialties has also re-established exports of Fijian papayas to Japan, which had dwindled in recent years. The depressed Japanese fruit market this year has meant sales have been limited to 500kg a week so far, but that is expected to pick up as Christmas and Chinese New Year approach.
As well as Japan, the company also re-entered the Australian market in June this year after flooding cut back on available supplies in 2009. Shipments there have risen from 300 cartons (5kg) a week in June to 1,000 cartons a week in November, and Mr Thorpe expects them to grow even further in the New Year.
In New Zealand, the company will be trialling seafreight shipments early in 2011 to lower prices. If the trial goes well, Mr Thorpe hopes to increase shipments from 500 cartons by air to 1,800 cartons by sea a week.