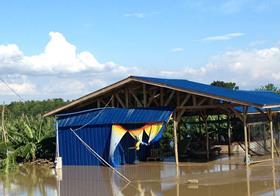 Flooding in the Philippines has affected banana plantations recovering from five years of drought and typhoon damage, report industry sources.
Heavy rain in Mindanao caused rivers to burst and swamp banana-growing areas in Compostela and Davao Del Norte last week, sources told Fruitnet.
"This will definitely have some effect on supply and quality," they said.
The Philippine government on 24 January declared Mindanao's Caraga region to be under a "state of calamity". Four days previously Davao del Norte authorities had activated "incident command" in the area after five towns were flooded.
Flooding in Davao del Norte started on 17 January after the Libuganon River overflowed, caused by intermittent rains, the Philippine News Agency said.
The untimely floods occurred as the Philippine banana sector was just recovering from several years of drought in the aftermath of devastating typhoons that hit in 2012.
Industry players had predicted that banana supplies in 2017 would rebound to pre-2012 levels, some 30 per cent higher than in 2016.
The sector is revising crop estimates.